May 4, 2023
Constructive Wins 6 Indigo Design Awards 2023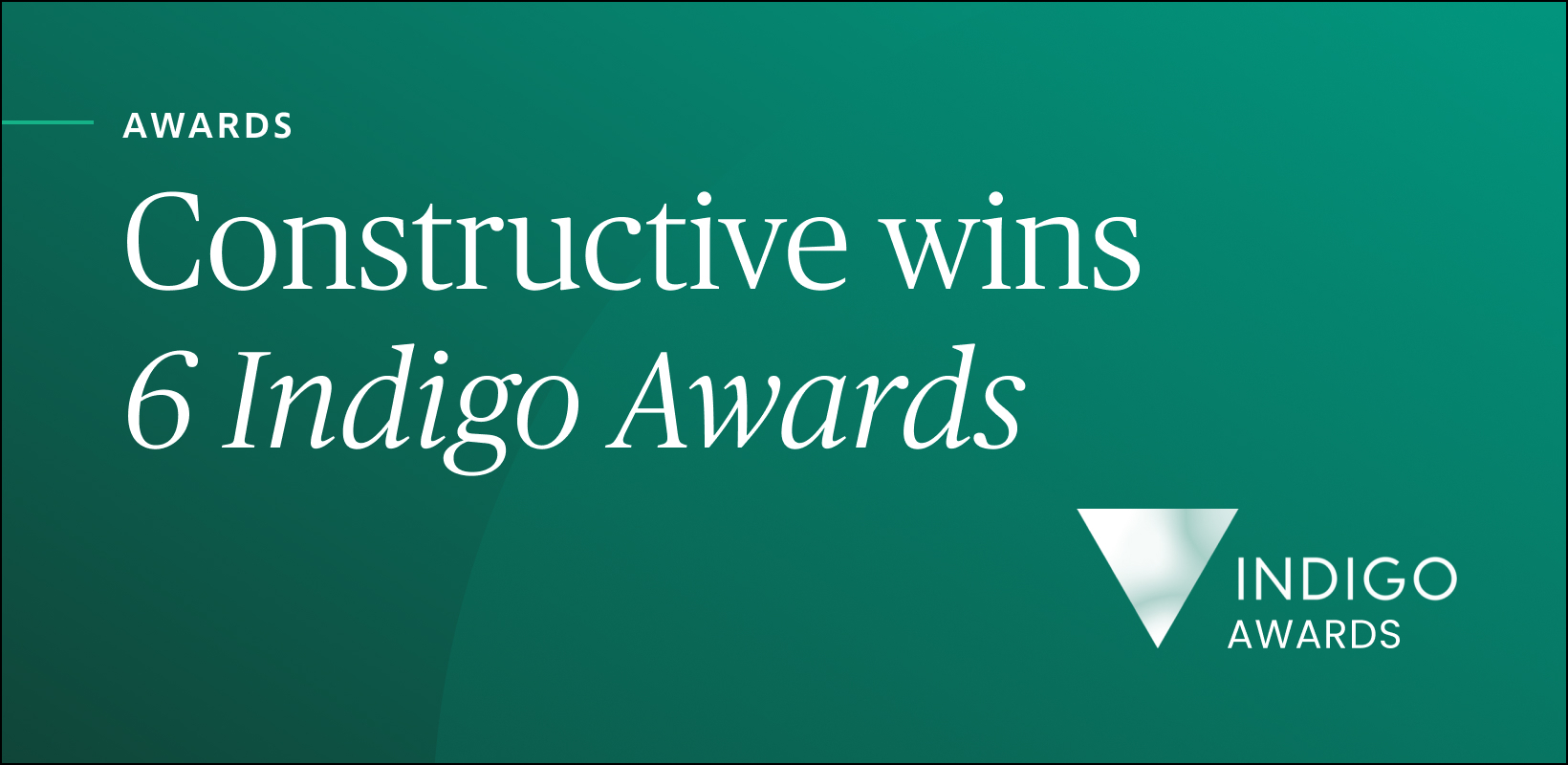 The team at Constructive is excited to announce that we've won six awards from the 2023 Indigo Design Awards! Our projects earned the following awards:
The Indigo Design Awards recognize international trail-blazers from the design world to elevate designers' visions and innovations. The 2023 Indigo Design Awards were decided by a panel of 59 industry experts, judging projects based on creativity, originality, impact, and adherence to the topic. 
This year, the Indigo Design Awards added a new category: Design for Social Change. With journalists, experts, and designers judging, we were proud to see our projects earn designations in the social change category. 
Here at Constructive, we know how much a revitalized website, brand, or report can help amplify an organization's impact. We were proud to see that effort and impact recognized by the Indigo Design Awards. 
Read more about the winners:
The Legal Aid Society: Silver Winner in Websites Design for Social Change and Bronze in Branding for Social Change
The Legal Aid Society has been working to ensure equal justice for all New Yorkers for more than 145 years as one of America's largest and most influential public interest law firms. In need of a more focused message and stronger brand and website, The Legal Aid Society partnered with Constructive to both rethink their brand to better embody their mission and values, and to develop a website that makes large volumes of information accessible to the public while acting as a digital platform for real-time fundraising and action. Together the new brand strategy, visual identity, communications, website, and collateral better unite the organization across offices and boroughs to continue delivering justice for all New Yorkers.
Learn more about the process behind rebranding the Legal Aid Society. 
The Child Mind Institute: Silver Winner in Websites Design for Social Change
The Child Mind Institute is a global leader in children's mental health, providing expert research, education, and care that advances the field and makes a difference in the lives of millions. With over 1.4 million people visiting their website a month, Constructive partnered with The Child Mind Institute to create a new vibrant, accessible, and multilingual online destination for people to access their vast library of high-value educational resources and tools. The new website has transformed The Child Mind Institute's brand, helping to increase public engagement and further empower families to seek knowledge and support for their children.
Go behind the scenes on our work to revitalize The Child Mind Institute's digital ecosystem. 
Spark the Journey: Silver Winner in Branding for Social Change
A community and mentorship program empowering young-adults, Spark The Journey knows that the future of America relies on the ability of our young people to chart their own pathways to success and economic mobility regardless of their zip code, race, and educational background. Spark The Journey partnered with Constructive to develop branding that speaks to their compassion and commitment to young adults and mentors—while emphasizing that their programs and services are just the spark igniting the fuel within young individuals towards succeeding in their goals. Spark The Journey's new design system is fresh and modern, representing the energy and optimism of the organization as they continue to use the power of community to increase access to opportunity and propel the next generation of Americans forward.
Check out Spark the Journey's new look on their site or their Instagram. 
St. David's Foundation Digital Report: Bronze Winner in Digital Design for Social Change
St. David's Foundation is a community-focused and equity-driven organization supporting health and wellness in five Central Texas Counties. One of the largest health foundations in the nation, St. David's Foundation focuses on removing barriers to better living today and changing systems and conditions to improve outcomes for a healthier tomorrow by advancing equity through Community Investments, Community Programs and Community Leadership. Constructive partnered with St. David's Foundation to create a dynamic digital report to the community that embodies their vision for the future.
Check out St. David's Foundation's Community Impact Report. 
American Forests: Gold Winner in Websites Design for Social Change for 
Founded in 1875, American Forests is our nation's oldest forest conservation organization and a leading environmental nonprofit. Two years after leadership established a bold, new strategy focused on tree equity and DEIJ conversations, American Forests partnered with Constructive to re-imagine their historic brand and create a bold, new website. American Forests' new website speaks to their rich history and organizational story while connecting audiences to an array of conservational issues, programs, and resources; driving both fundraising and volunteer efforts on a national scale.
Learn more about redesigning American Forests's website. 
The Team Behind the Award-Winning Projects
Matthew Schwartz: Constructive CEO and Founder Matthew brings nearly three decades of experience as a designer, brand strategist, and writer for the social impact sector. Matthew played an integral role in driving the strategy and development of the award winning projects for American Forests, the Legal Aid Society, The Child Mind Institute, and Spark the Journey. 
Karla Despradel: Karla leads Constructive's design practice, bringing a decade of cross-disciplinary experience in visual design, design thinking, UX, and social innovation design to create beautiful, change-making brands. Karla led Constructive's design team to Indigo Award acclaim for the projects with American Forests, The Child Mind Institute and St. David's Foundation. 
Paul Sternberg: Paul combines 15 years of expertise as a human-centered designer, strategist, and facilitator with formal training as a journalist to tell stories that connect people to ideas and information—and empower them to affect change in the world. Paul leads Constructive's Strategy and UX Team, and played a pivotal role in the American Forests's project's strategy and UX as well as The Child Mind Institute project's digital and UX strategy. 
Doug Knapton: Doug is a visual and UX designer who is passionate about creating positive brand experiences for mission-based businesses and nonprofits. He's brought brands to life with organizations like TIME and has created cutting-edge, compelling design with Constructive for more than six years. He applied his talents to The Child Mind Institute's award winning project.  
Kevin Ng: Kevin brings passion to the table, believing that visual design is a powerful tool that can help Constructive communicate impactful messages. Kevin also brings years of experience in design and UX that have transformed brands and organizations. His UX expertise helped advance the American Forests and St. David's Foundation projects. 
Daniel Ornelas: With more than 15 years of experience in development, technical design, and engineering management, Daniel applies his knowledge to bridge the gap between idea and execution in the development of complex web-based properties. As Director of Technology, Daniel led Constructive's Web Development Team to success in the American Forests and The Child Mind Institute projects. 
Jon Gronberg: Jon is a self-taught full-stack web developer who first began learning programming more than 10 years ago as a hobby and to build an inventory. Today, Jon has played a critical role in advancing impact for trail-blazing nonprofit organizations. He brought his development expertise to the American Forests and The Child Mind Institute's websites.
Tess Stewart: Tess Stewart is a copywriter and strategist who believes in the power of good storytelling to make meaningful connections. She brought her storytelling skills to develop content strategy for the St. David's Foundation report and helped position and brand Spark the Journey. 
Katie Dennis: Katie brings 5 years of experience across multiple different industries; from e-commerce project management to event planning and the nonprofit sector. Katie's project management skills played a pivotal role in the development and execution of the St. David's Foundation report.