October 1, 2021
We'll Be At ComNet V21! Join Our Dialogue on Design Principles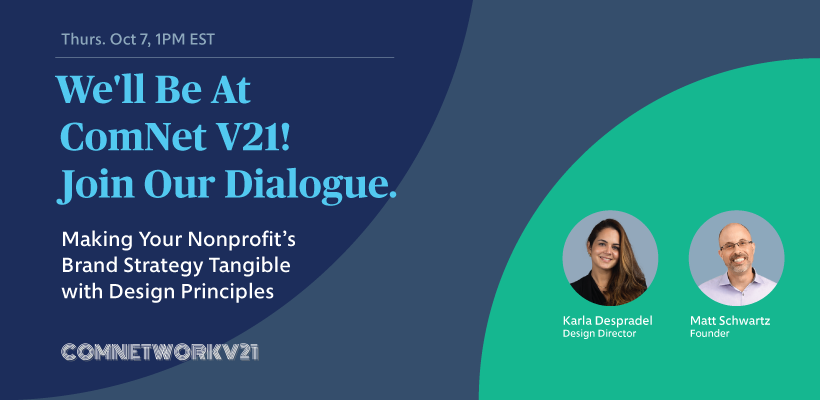 Our Design Principles Dialogue
What are Design Principles and how do they strengthen a nonprofit's brand and effectiveness? They are a strategic unifier that distill a nonprofit's vision, values, and brand persona into actionable statements, create a shared vision, and make design decisions more objective. Constructive's Design Director, Karla Despradel and our Founder, Matt Schwartz will be leading a design principles dialogue discussing how to create Design Principles for your nonprofit to translate your brand's strategy into a cohesive visual design system. The dialogue will be taking place this Thursday October 7th at 1PM Eastern Standard Time. If you'd like to be part of the conversation on strategic design, go to comnetworkv21.live to join. The dialogue is limited to 30 seats, so don't wait too long to join us! Constructive's Senior Strategist, Titania Veda, will also be roaming the virtual halls at ComNetV21, so please say hello to any of us if you're around and want to chat! We're extremely excited for another Communications Network conference and we can't wait for amazing sessions, to hold our design principles dialogue, and to meet virtually with friends, old and new.
What is ComNetwork?
Each year, The Communications Network holds a conference for their community of communicators, storytellers, designers, researchers, strategists, and more, to gather and discuss important communications topics while building a network of professionals who want to change the world for the better. Each year, we at Constructive are excited to attend ComNetwork, and we're excited to both attend and speak at this year's virtual conference. 
The Communications Network 
The Communications Network works to build a diverse community of leaders from the most influential foundations, nonprofit organizations, and social impact sector consultancies globally. The Communications Network has built a community of over 3,000 individuals strong, and between their ComNet conference, webinars, online resources, and more they work to connect the social sector—and shape the future of the industry.