When I first began as a designer, I felt like my designs had to be "complete" before I could show them to anyone. I think this vulnerability stems from a feeling that, as designers, we want to think through every element before we can call a design complete. But here's the thing: another person on your team has likely solved similar challenges. But the concept of the solitary creative genius is a myth. The truth is that a collaborative design process—a design process that's inclusive—emphasizes co-creation and is the best way to produce effective design. And when our design work is strategic and ethical human-centered design for nonprofits, having social impact on complex issues takes a diversity of perspectives and expertise.
Over the years, I've come to learn that designing collaboratively means putting your ego aside to make something that transcends the sum of its creators. A collaborative design process can be challenging at times—especially at first. But getting out of our own heads and incorporating collaboration into our design process is worth the effort because it improves our work. Especially if you're collaborating not just with other designers, but with people who add different perspectives and lived experience that enriches our work.
Here are six techniques from Constructive's inclusive design practice that you can use to be a more collaborative, and hopefully a better designer:
1. Start With Design Conversations
I spend most of my days independently thinking through design concepts and ways to execute them with prototypes, wireframes, sketches (lots of sketches!), and of course .jpgs, .pdfs and some .sketch files. But the truth is that a computer can be one of the worst tools for problem-solving. And it's definitely the worst place to start. That's because we usually limit our design thinking based on what the tool can do, not what our strategic design goals are.
Design is about working with ideas—translating intangible concepts into something that can be seen or interacted with. It's much better to start the design process by discussing design goals and outcomes. Then have regular conversations as you work to make the design process more inclusive. And grounding your design practice with brand strategy is key, because it centers our design conversations on a nonprofit's impact strategies.
At Constructive, we use these conversations—which always start with client teams at the nonprofits we're working with—to establish what we call "Design Principles." By articulating 5-7 clear design principles into our work, we can be sure that what a nonprofit's branding, communications, or website design must embody is always front of mind.
---
2. Embrace Internal Design Reviews
We always review internally as a team before presenting our design work to the nonprofits that Constructive works with. We spend a lot of time together discussing things both big and small—evaluating design from a micro and macro level. Talking through a nonprofit's identity design system adds invaluable expert perspectives to your thinking that usually makes the work better.
What I've learned is that internal reviews are probably my most valuable time I have when designing. That's what makes working on a team so great—you're not on your own! Designers are experts in design language and design thinking, so they tend to know how to give good design feedback. You may not agree with all the feedback, but it'll all be good food for thought.
After Constructive's design team critiques my work, I'm more confident about what my next steps are. That's because I've gotten feedback that lets me see things I might not see on my own. It's easy to justify a system's flaws in your head when you're the only person who's seen the design. Having someone whose opinion you respect give you honest feedback is the perfect antidote to falling in love with design ideas that aren't working.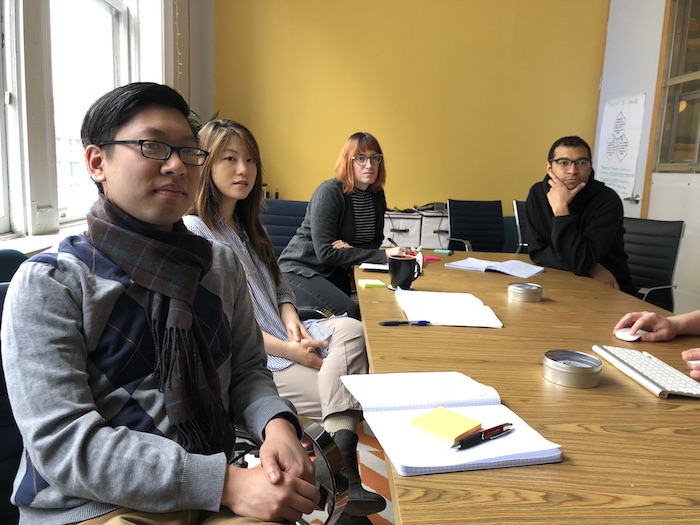 One more note about why internal design reviews are so valuable. They're great practice for your presentations before you present to a client. What sort of language am I using to describe the design? Are my ideas clear or I have to over-explain my rationale so that people understand the intention? If so, I probably want to make sure those things are more clear in design so that I can explain less.
---
3. Incorporate Prototype Testing Into Your Design Process
When most people think of design prototypes, they think of an interactive for a website design or product design. But a prototype can be almost anything—a piece of paper, a card-sorting exercise, an series of clickable static design comps, or a fully-coded interactive experience that's used to gain insights during user testing. And prototypes don't just have to be for things like nonprofit web design. Prototypes are one of many valuable tools for service design, which can be particularly helpful for nonprofits who use inclusive design and lived experience to design programs that are more responsive to the needs of their end beneficiaries.
When I'm uncertain about an assumption I have about a design, it helps to do some informal user testing with both designers and non-designers. Testing with members of your design team is a really helpful exercise for thinking through basic user experience patterns because everyone brings a unique understanding of web accessibility standards and how to improve usability.
For example, when Constructive was creating The Air Quality Life Index, an environmental data visualization platform and research tool, I conducted several rounds of user testing with our design team early in the design process. We developed static UX design prototypes and tested them internally before conducting user testing with our target audience. As a result, I was able to streamline the interface design for the nonprofit's data visualization tool early and make the functionality more user-friendly. This, then made our user testing with audiences better and more valuable.
---
4. Schedule Weekly Design Huddles
In addition to our internal design reviews that are aligned with project schedules, Constructive's design team checks in with each other regularly throughout the week. We have design stand-ups through Slack that just allow people to let others know what they're working on—and ask for help if they're stuck. We also have weekly design huddles, which give us all an opportunity to have more in-deph design conversations about design process, design trends, and design inspiration.
Especially when design teams are working remotely, It's important to come together as a group. First of all, feeling connected to one another as a team is really important—again, that's what being part of a team is all about. It also creates the space that designers need to discuss design issues and opportunities that we're experiencing—and get help from our teammates.
---
5. Share Design Inspiration—Lots of Design Inspiration!
Designers need inspiration. And inspiration can come from just about anywhere! To keep our design thinking as creative and innovative as possible, Constructive's team shares tons of examples of great design work that resonates with us keep our deign thinking innovative. We try to share and keep an organized record of all the things we see online that inspire us. We have a channel in Slack just dedicated to design, where our team shares great design throughout the day. And we also use Dropmark to categorize links to branding and website design for nonprofits that we love—as well as design work for other sectors.
Cultivating a culture of continuous learning is one of Constructive's core values, and this practice of sharing and categorizing design inspiration is a big part of this. What makes this collective sharing of design ideas so valuable is that it keeps our team focused on what great work looks like, it expands our thinking about what great design work can be, and it help us us cultivate a design practice that's more diverse by drawing on all of our perspective. And this, in turn, makes the design work we're doing with the nonprofits that Constructive partners with more strategic, more creative, and more effective.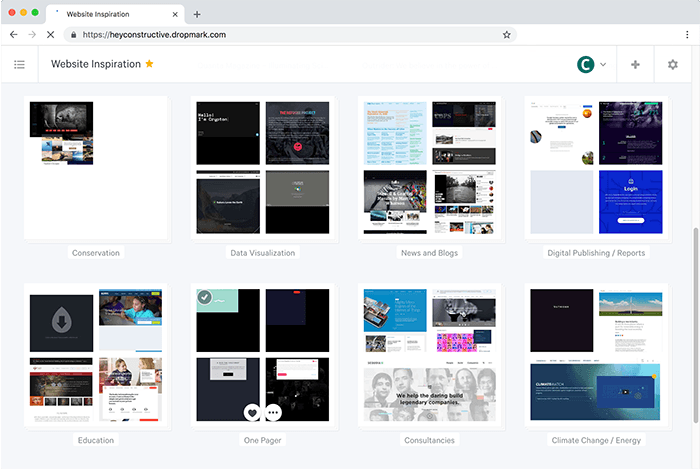 ---
6. Make Sure Large Teams Are Pulling in the Same Direction
Larger design projects, such as content-heavy websites demand even more collaboration—not just between designers, but between strategists, writers, and web developers. These projects highlight the importance of a good design process and teamwork. The more people working on a project, the more complex the project, and the longer that project takes to complete; the more likely it is that your original design intent can break down.
I've learned that when something in a design system is bothering one person, it's usually negatively affecting other people as well. And these impacts can make the jobs of other people on the team more difficult. That's why you've got to stay aligned and make sure you're having those conversations. Sometimes a static design comp looks great as a jpg, but it turns out that it will be far too complicated for web developers to build (or at least it could be radically simplified). Or, when it's eventually coded, a nonprofit's website design falls short of a nonprofit's accessibility design goals—and as a result creates a less inclusive experience.
Working as part of a multi-disciplinary team is about process and communication. Extend collaboration to everyone on a project team, not just the designers, and large, complex web design projects will have fewer headaches—and will be more effective as a result.
---
Final Thoughts
Why am I telling you this? The obvious answer is that any team needs to collaborate to work successfully. That holds a nugget of truth, but the real answer goes much further. No matter your discipline—design, development, content, or strategy—I believe we get better each day as individuals by engaging in challenging conversations with each other. This, in turn, creates a much stronger, more powerful team.
Hopefully, what I've learned about collaboration techniques by working in Constructive's design practice are helpful to your design process and can help you have greater social impact as a result.