It's about that time of year. The time when nonprofits start thinking about and planning for their annual reports. But 2020 is a year unlike any we've experienced and annual reports somehow feel both more and less important than ever—2020 is a year that demands to be documented but aches to be forgotten. Plus, there's the whole "how can our annual report even begin to cover everything that's happened this year!?" question. So, if you're a nonprofit looking for examples of great annual reports by nonprofits and mission-driven organizations, where can you find them? Constructive's team has been doing our own research for annual reports we're working with nonprofits on and thought "why not share what we're seeing with others looking for inspiration?!" So if you're looking for some inspiration for your nonprofit's annual report, we've rounded up some of our favorite reports from the past few years to help inspire your 2020 annual report and make it as—let's just say unforgettable—as the year.
Examples of Great Annual Reports for Nonprofits
Feeding America 2019 Annual Report
Memorable for leading with people and balancing data with stories. The very first page of Feeding America's 2019 Annual Report pulls us in with storytelling—sharing an engaging story about a family and Feeding America's impact. We love this approach to storytelling in an annual report. It puts the nonprofit's values front-and-center, letting audiences know what's most important to them. Leading with nonprofit storytelling also does a great job of contextualizing the data and statistics that follow in the rest of the annual report. Feeding America also does an excellent job engaging readers with links in the PDF report send readers directly to digital content on Feeding America's website. (Notice the 'Watch the Video of the Story' button below). For nonprofits who aren't quite ready to invest in a digital annual report, this is a great way to leverage your existing digital content.
In a year where the news cycle has been flooded with mostly depressing data, balancing your annual statistics with stories will be more important than ever in 2020 annual reports. It'll also help organizations demonstrate their impact on an individual level, without getting too in the weeds about what's happening at the national level. And for organizations that only publish PDF reports, adding hyperlinks to online content is a great way to make the report feel less static. (If you're looking for ideas for digital annual reports, we published an article a ways back on best practices in online reports.)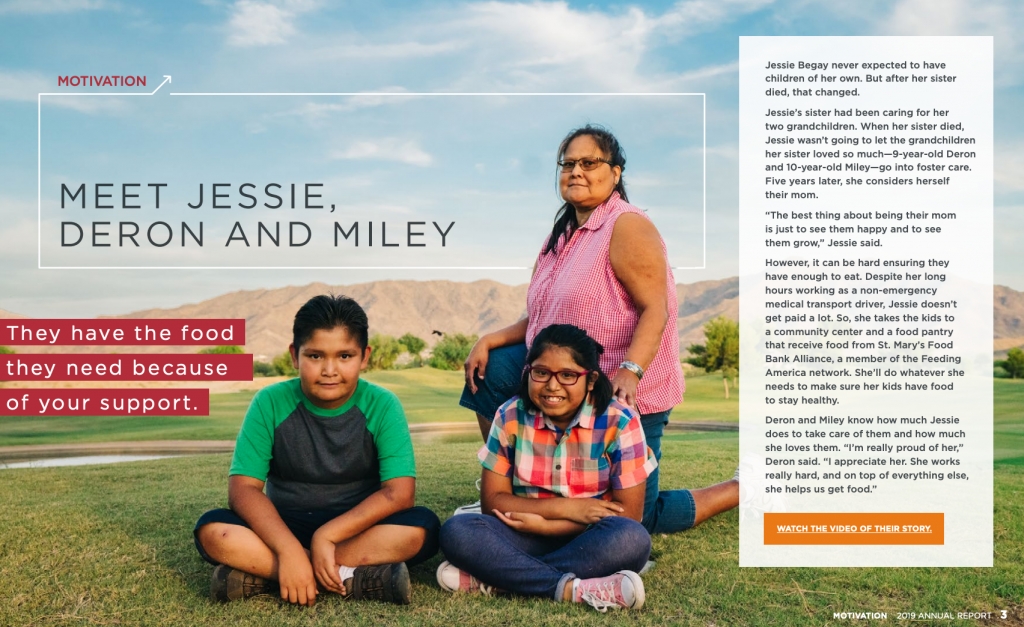 The Equal Justice Initiative 2018 Annual Report
Memorable for its use of bold photography and simple messaging. The saying "a picture is worth a thousand words" is a cliché for a reason. When used effectively, images powerfully and quickly convey emotions in a way that isn't always possible with writing. The Equal Justice Initiative's 2018 Annual Report knows this well, and the nonprofit's strategy relies significantly on bold imagery to create an emotional connection with audiences and a sense of urgency. In some cases, photos even take up more than half a page in their report. Complementing photography are are powerful statements that focus audiences on what they're looking at and, most important, why it matters. Taken together, the nonprofit's use of images and messaging in its annual report ensures that even readers who skim through the report will get a sense of the year EJI had.
Including dramatic imagery in your 2020 annual report is a great strategy to set this year's annual report apart from other years. We're all living through the same chaotic year—more than ever, nonprofits have the flexibility to let images speak for themselves since readers will need less orientation to the local, national, or global context of your work. If your nonprofit doesn't have access to great images, there are a lot of options beyond the typical Getty Images and iStock approach. Unsplash has a wide assortment of authentic, unexpected images. And if you want more representative and diverse stock photography, two excellent options are Images of Empowerment and Deeper Learning.
Oatly 2018 Sustainability Report
Memorable for its outstanding use of humor and honesty. Just because you're a nonprofit looking for ideas to inspire your 2020 annual report doesn't mean you shouldn't look to the business world for ideas. Oatly is a great example. They waste no time cutting to the chase—their cover page calls attention to the fact that 2018 was "Slightly worse than last year!" Oatly's annual report is shockingly refreshing with honesty we don't often hear in business annual reports. It uses humor right from the start to establish authenticity, transparency, and intimacy between the reader and Oatly's brand. And its visual design is a consistent extension of their strong visual identity.
For nonprofits that aren't afraid to drop a few puns or show demonstrate deadpan honesty, humor can be a great way to breathe a add a breath of fresh air to your annual report, embody transparency, and break down barriers between you and your audiences. In a world where nonprofit annual reports can understandably be very serious, this approach may work for some. And honestly, if we don't find a way to laugh a bit about 2020,  we'd all be crying about it, right?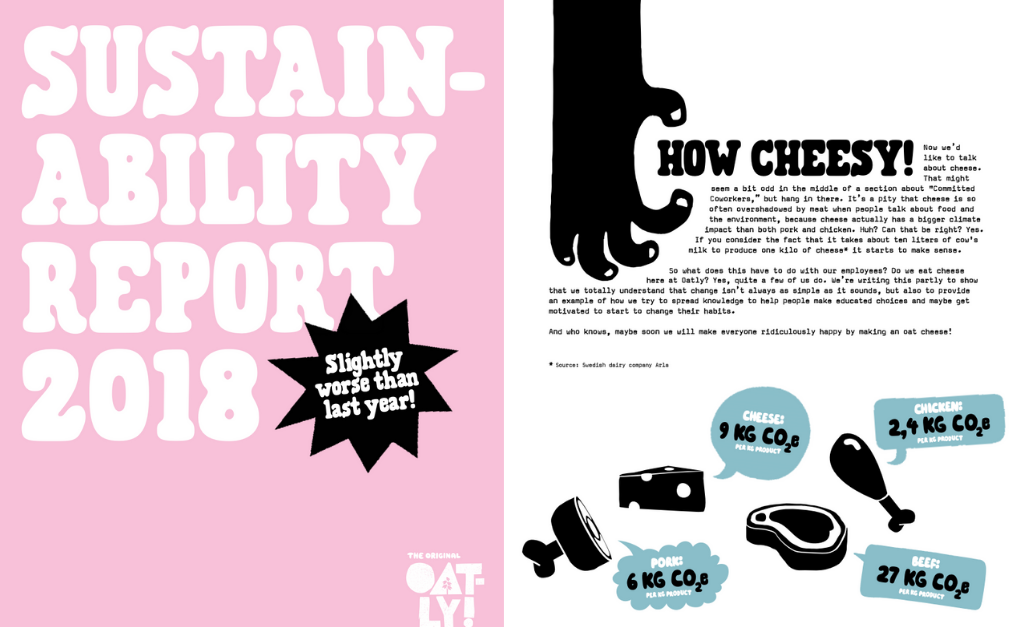 MailChimp 2019 Annual Report
Memorable for being wild—and wildly shareable. Another great annual report from the world of business—and it's a company that many nonprofits with a website are probably very familiar with! At first glance, MailChimp's annual report looks  like a stack of old records and concert posters—and upon further exploration, that's exactly what makes it so great. Despite the big pile of digital posters, the content of this report is incredibly simple. There are only two actions users can take when scrolling through this report. They can click a slide, and they can share that slide on social media. This simple approach helps to drive engagement because a user knows exactly what MailChimp wants them to do when they're reading the report—share it on social.
An experimental format like this likely isn't feasible or "on-brand" for many nonprofits, we know. But it goes against the grain and hopefully is another inspiration for trying something different in to make your nonprofit's annual report as unusual as 2020 has been. Because, MailChimp's strategy of delivering simplified content and streamlined social share calls to action is a compelling one that any nonprofit can replicate to drive engagement.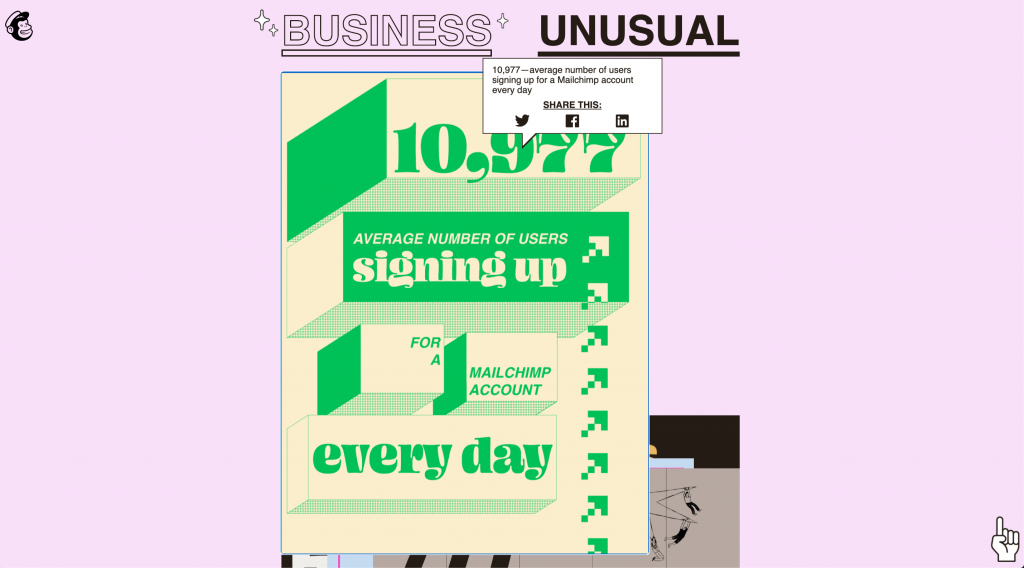 New American Economy, St. Paul Report
Memorable for great data visualization. Not technically an annual report, but the New American Econom's report on St. Paul is an outstanding example of how nonprofits can effectively use data visualization in their annual reports. NAE's report on its work in St. Paul is absolutely loaded with charts, statistics, and graphs. That may not be unique. What we love about this report is that NAE don't make readers dig for this information. Throughout the report, data is visualized in ways that make it easy to read and easy to understand in context.
Nonprofits will likely have a lot of dramatic statistics to share in their annual reports by the end of this year—and these statistics tell stories. These facts and figures should be highlighted, not buried in lengthy annual report copy. Using data visualization helps demonstrate impact more effectively and ensures readers don't lose the context as they look at the numbers. If you'd like some quick ideas on how to design for impact with data, check out this article we created on best practices for data visualization design.)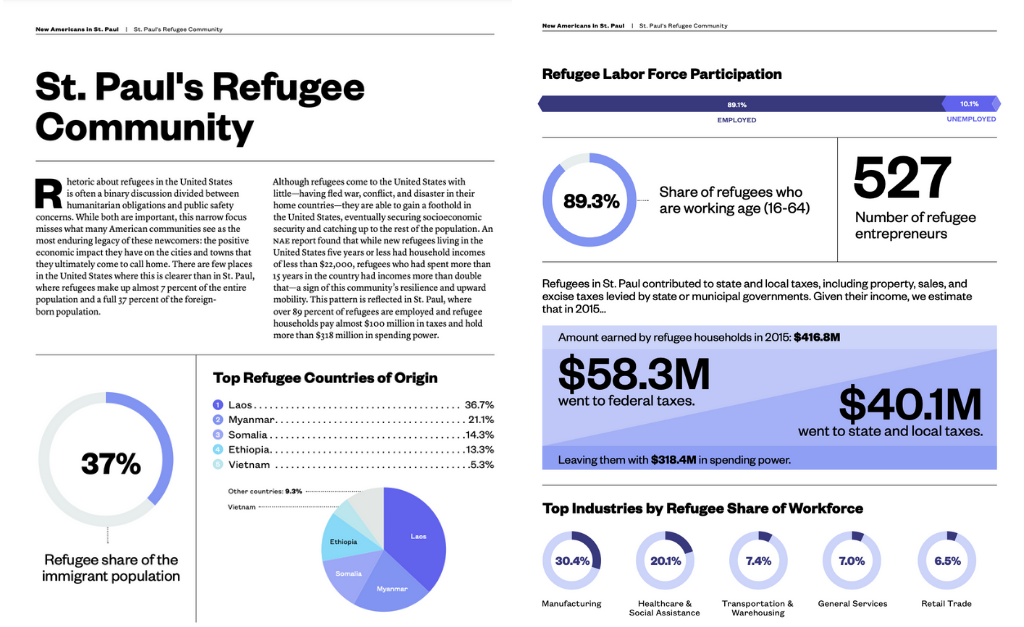 Twitter #ThisHappened in 2019
Memorable for not being an annual report. Maybe your nonprofit doesn't do annual reports, and only publishes its yearly financials. We got you! Twitter's #ThisHappened in 2019 provides a compelling and less-resource intensive alternative. Published every year, their #ThisHappened blog post and corresponding Twitter campaign highlight the most popular hashtags, memes, news stories, and more of the year alongside shareable top 10 infographics.
A blog-post approach is a great way for nonprofits to stay relevant and update their audiences after such a whirlwind year. For organizations that don't publish annual reports, it's a great replacement. And for those that do, a blog post like this can function as a supplement. Streamlining content to highlight only the most interesting tidbits for your readers and incorporating diverse media types (photos, videos, social media posts, etc.) are both great ways to drive engagement with or without an annual report.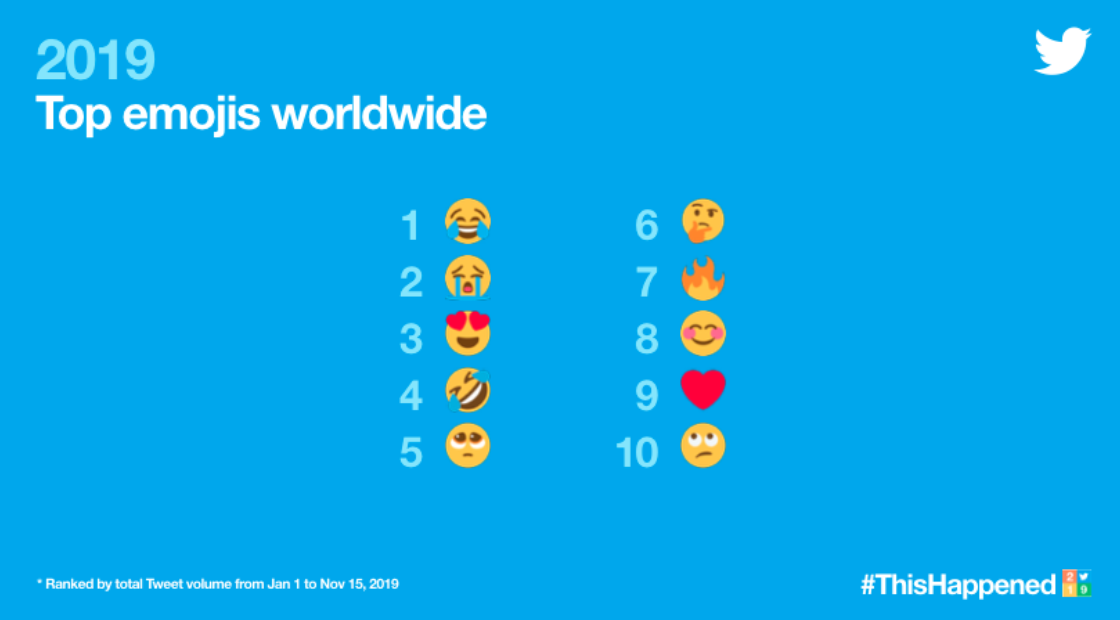 Final Thoughts
As your nonprofit is thinking about ways to design an annual report that's up to the moment in 2020, we hope these ideas have provided inspiration. Remember, you don't have to reinvent the wheel! From storytelling and imagery to humor and data visualization, there's a lot of inspiration out there to help your nonprofit demonstrate its impact annual report in unique and compelling ways. And, of course, if you're looking for help to develop a strategy and design for your nonprofit's annual report in 2020,  we hope you'll get in touch!
Want to go a bit deeper into the process of creating a digital annual report?  Get a detailed look in our recent case study that walks through our collaboration creating  The Legal Aid Society's 2020 Annual Report.