Blue Meridian Partners
An Innovative Brand in Philanthropy for Youth & Families
Preparing to become an independent nonprofit after privately incubating in The Edna McConnell Clark Foundation, philanthropy aggregator, Blue Meridian Partners asked us to help launch its brand with a new digital strategy, website, and investor portal. In nearly three years since, we've partnered with the innovative philanthropy to share its learnings, build a community, and engage investors. The results of the digital and communications strategy are changing how people think about solving systems at scale and increasing the impact Blue Meridian and its partners are having in communities across America.
Discovery & Strategy
Who are our audiences and what content will meet their needs?
To get a better sense of Blue Meridian's organizational strategy, aspirations, and priorities, we started with staff surveys, interviews, and collaborative workshops. With a clear picture of Blue Meridian's needs and goals, we increased our focus to website users, mapping primary and secondary audiences and identifying their key goals. A review of peer and related websites then helped put these insights into a broader context, resulting in a strategic brief that would serve as the foundation for creative and technical execution.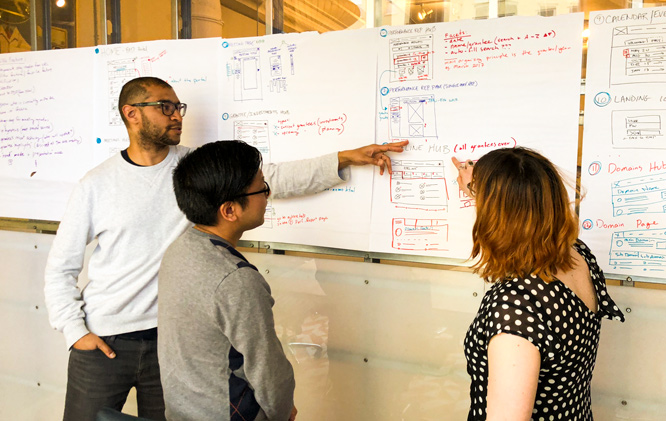 Information Architecture
Delivering key information quickly and easily.
With a solid understanding of Blue Meridian's audiences and their specific digital content needs, we developed two distinct options for the site's architecture. The first was organization-oriented, with Blue Meridian as the "main character" in the digital narrative—the content was structured to proactively answer who they are, what they do, and why it matters, with content about their specific priority areas set in context. The second was approach-oriented, leading with Blue Meridian's differentiated way of funding initiatives and their vision of the world by telling the story of the issues they invest in. After an additional workshop, we refined and finalized the sitemap to incorporate elements of both directions.
Web Design
Creating a consistent and engaging online experience.
After designing a few different directions for the website in concept boards, Blue Meridian's team decided that a structured look and feel that evoked a social impact consultancy grounded felt appropriate for the role the organization played as a results-focused leader in the field of philanthropy. We then expanded Blue Meridian's visual identity and created a modular system of design elements, components, and layouts that provide cohesion and flexibility for its new website.
Blue Meridian's new website and refined brand create a sense of unity and alignment amongst their diverse initiatives and partners.
Partner Portal
Redesigning an information hub for investment partners.
Every quarter, Blue Meridian hosts meetings with their partners to receive updates on their investment initiatives, and how they've progressed in line with their investment plan and timeline. As such, Blue Meridian envisioned updating an internal platform for partners that would become a "one-stop-shop" in planning for and facilitating these meetings. We worked together to refine their partners' content needs, and built out a new Partner Portal complete with easy to navigate content about all of Blue Meridian's initiatives. The new Portal was built to be mobile-friendly, with the ability for users to easily download meeting documents with one click (or tap!).
Our Client's Experience
"Constructive has been a great partner from the start! They care just as much as we do about our work and the quality of our communications. Their process is supported by open discussion and clear communication that makes it much easier for us to achieve our goals. We value their partnership and continued support as Blue Meridian partners grow our impact"

Micah Carr, Chief Brand Officer, Blue Meridian Partners