National Constitution Center
Creating a New Interactive Constitution That's Designed for All
The National Constitution Center (NCC) is a nonpartisan nonprofit and museum that promotes civic engagement by increasing awareness and understanding of the U.S. Constitution. With new funding to add an online curriculum for millions of Advanced Placement middle-school and high-school students, NCC asked Constructive to design a new vision for its landmark Interactive Constitution. Together, we created an experience that makes the U.S. Constitution more accessible, engaging, and insightful, expanded how NCC shares its scholarly expertise, and launched a "Classroom Edition" to share the ideas that underpin America's democracy for millions of young minds around the world.
Digital Strategy & Information Architecture
How can we make the Constitution more accessible and understood?
The Interactive Constitution stands out as one of the most valuable online resources to understand America's foundational document. Each year, it engages millions of Americans, making the document's complexity and its many interpretations more accessible and relevant. With this awesome responsibility in mind, we first engaged NCC's team to learn from their expertise and understand the opportunities and challenges in designing an experience that empowers audiences to explore the Constitution and expert perspectives, while ensuring that we preserve the document's integrity and remain fully nonpartisan. Following surveys, interviews, and research, we then led workshops to develop a digital strategy to reach a wider audience, deepen insight and appreciation, and reinforce NCC's expert credibility.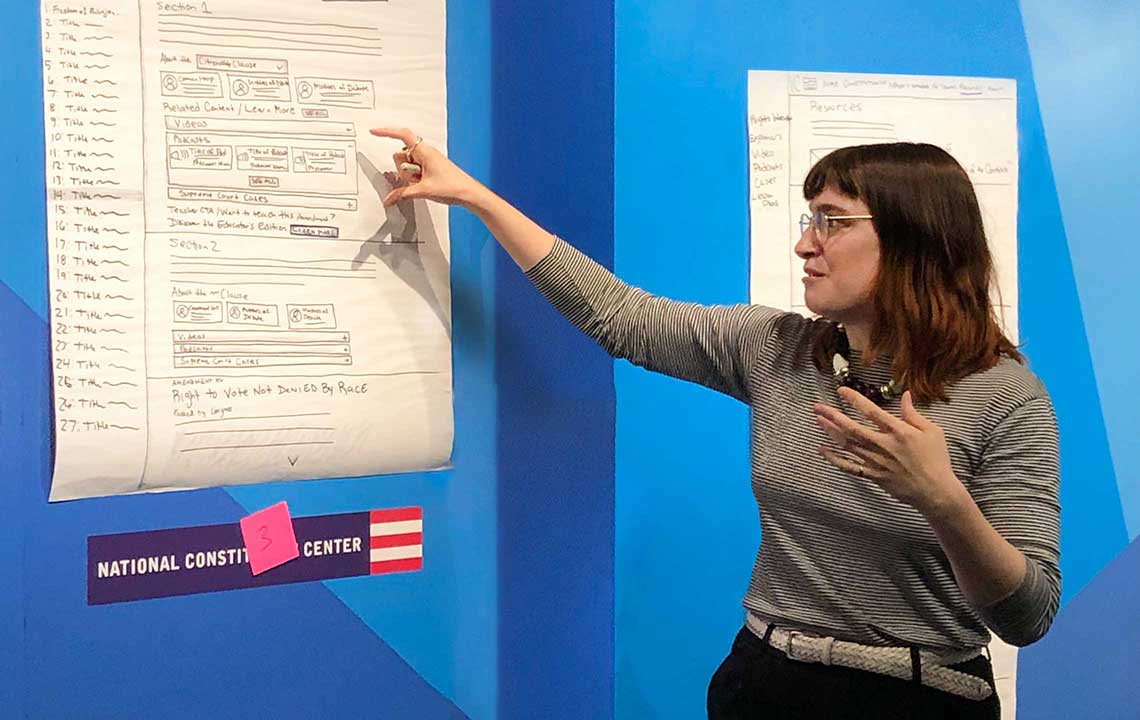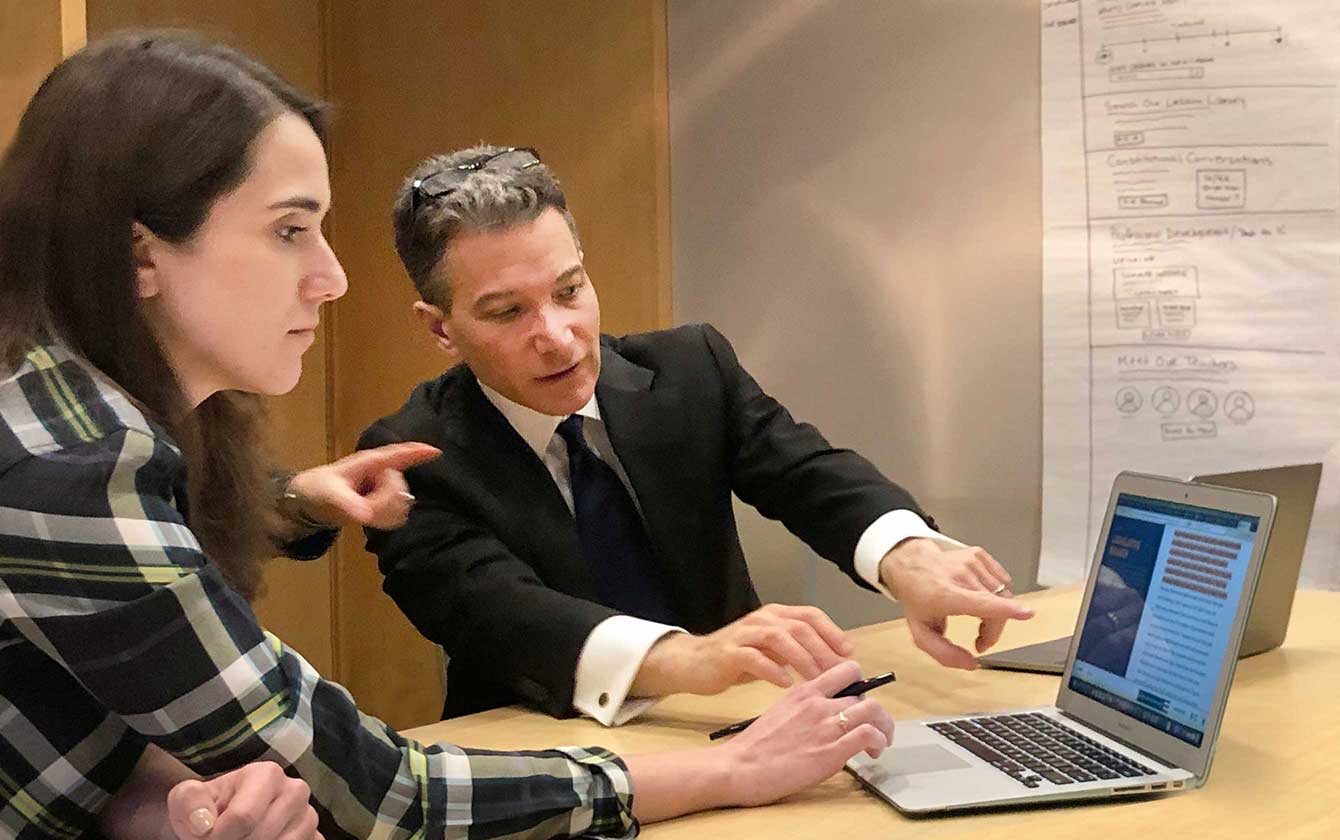 After developing a taxonomy and information architecture to structure The Interactive Constitution's complexity, we conducted user testing to make sure that audiences understood user flow, content relationships, and how to explore the Constitution and its interpretations.
Visual Design
Offering two brand interpretations.
In designing the new Interactive Constitution, we knew there was more than one way to present the brand, just like scholars who debate the meaning of the text. We offered two design visions—interpretations, if you will—to create a strong, standalone brand that would be well-aligned with the National Constitution Center's. Both designs emphasized best practices in content-heavy website design to support the long reads required. In one view, richness of history was emphasized and made contemporary, with classic imagery and interface design creating a connection between the old and new. And our other vision was light, minimalist, and avoided design flourishes that might suggest commentary on the content. NCC's team decided that, while bringing the Constitution to life for audiences was necessary, adhering to the text in design was as important as it is in their mandate.
Interaction Desgn
How can we bring the text of the Constitution to life online?
Analytics told us that almost no one read the Interactive Constitution from start to finish, as they might the document itself. It is much more a resource for specific inquiries into Articles and Amendments and for general exploration into its broader meaning. To both present the full text and support non-linear experiences, we designed an interface that makes searching and exploring intuitive for people visiting on both desktop and mobile. Users can easily navigate to Articles, Amendments, and Sections. Highlighted text provides inline historical context, and for frequently debated ideas, users can go deeper and read expert interpretations on Sections of the Constitution, such as "Movement of Persons Throughout the Union."
The Interactive Constitution is more than just a digital version of the document. It is an experience to explore the U.S. Constitution, different historical and contemporary perspectives, and the consequences of those interpretations.
With the mandate to remain nonpartisan and a mission to highlight that which unites Americans, the Interactive Constitution provides common interpretations and gives equal emphasis to different perspectives.
Media Library
Adding the richness of a multimedia experience.
One of the major additions to the Interactive Constitution is a Digital Media Library, which organizes and presents The National Constitution Center's volume of scholarly and expert content in a rich, online repository. Videos, podcasts, articles, and events are organized by type, topic, Article, and Amendment, elevating NCC's unique content, encouraging audiences to explore, and expanding their understanding of the Constitution. And for anyone looking to find something specific, powerful search and faceted filtering quickly deliver relevant results.
Educator Portal
What will the classroom experience be like?
A key outcome for the new Interactive Constitution's funding partners, including The John Templeton Foundation and The Hewlett Foundation, was to bring a new curriculum to teach the Constitution to all Advanced Placement middle-school and high-school classrooms in America. The Interactive Constitution: Classroom Edition empowers students and teachers across the nation to learn the Constitution and engage deeply with the document's content, history, and relevance. Along with an online curriculum and toolkits, The Interactive Constitution offers professional development workshops that bring teachers together to increase their knowledge and improve lesson plans, and international Classroom Exchanges that give students around the world opportunities to engage in civil dialogue.
The Interactive Constitution's Classroom Edition delivers an innovative online curriculum and teaching tools, emphasizing constitutional education and historic storytelling that promotes civil dialogue and reflection.