July 27, 2022
Join Our Team! Senior Digital Project Manager (Remote, US Only)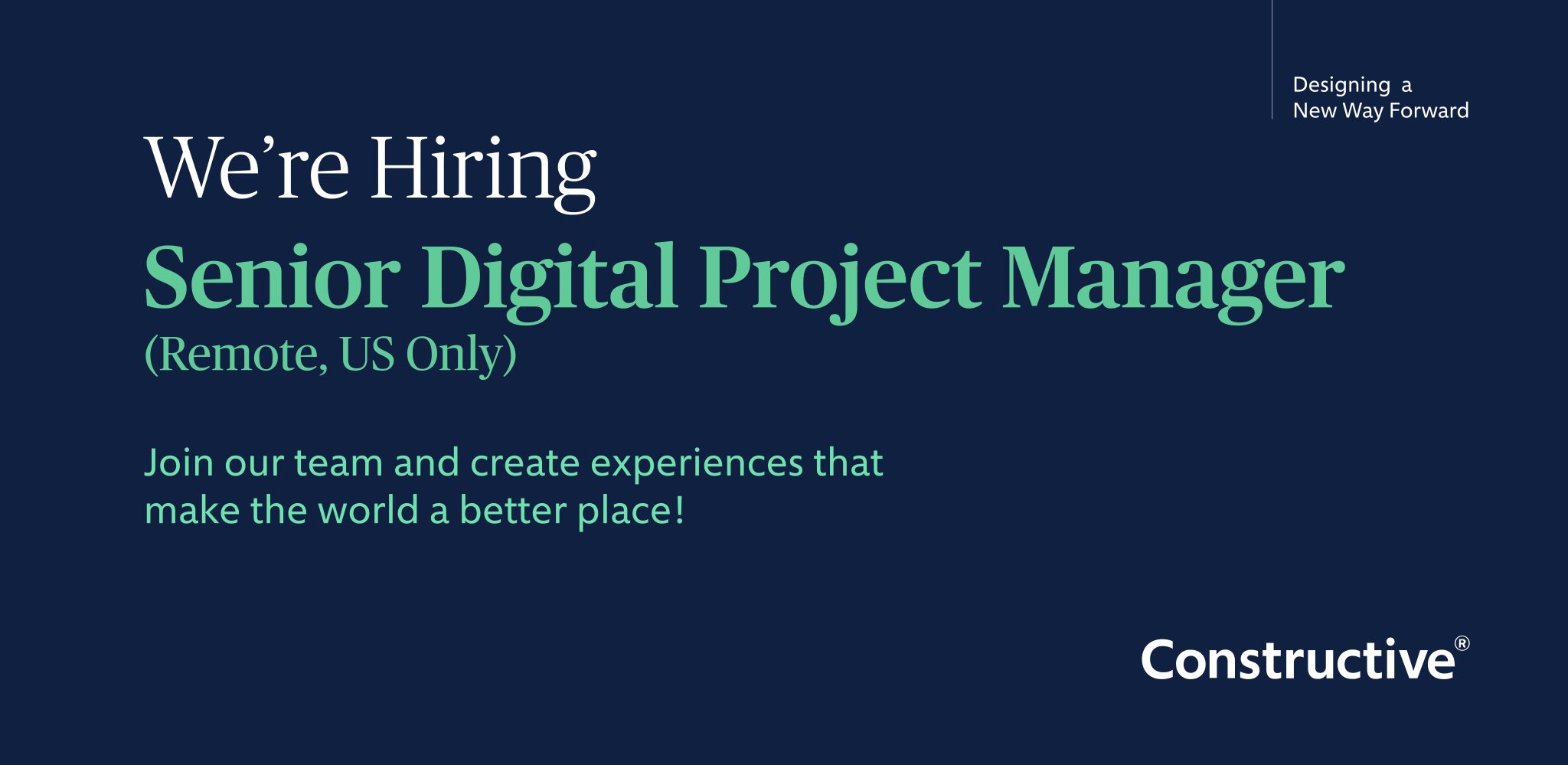 Constructive, a leading social impact design agency based in the New York area and operating with a fully remote workforce, is looking to add a Senior Digital Project Manager to our team! 
If you have agency experience managing website builds, are detail-oriented, process-driven, and excel at building and maintaining strong client partnerships, then we'd love to hear from you. And if you want to make an impact on global issues like climate change, poverty, education, and healthcare, then we've got some exciting projects to work on that we think you'll find incredibly rewarding.
We're a highly collaborative team that's committed to producing great work—so we're looking for someone who succeeds in close-knit teams and a fast-paced environment, who thrives at wearing the Project Manager/Account Manager hat, and who has a proven track record of successfully managing digital projects that resulted in long-term client relationships.
Things we'll need you to do very well:
Manage creative and delivery teams in executing web and digital projects, specifically full rebrands and website redesigns built within a custom WordPress CMS 

Foster collaborative, transparent, and trusting partnerships with our clients in order to build them into long-term relationships

Create and manage detailed project plans and documentation, including SOWs, schedules, budgets, and project resourcing

Manage and maintain account relationships with main points of contact for projects

Minimize exposure to risk by anticipating problems, identifying red flags, and working with internal and client teams to problem solve proactively

Participate in quality assurance for all deliverables, ensuring projects are up to studio standards and client expectations
Skills and experience we'll need you to have:
3-5 years digital project management experience within an agency 

Experience managing full website builds on WordPress

Experience with account management and account strategy

Experience with project forecasting and resourcing is strongly preferred

Experience with brand and website rollout strategies and planning is strongly preferred

Solid organizational skills, including attention to detail and multi-tasking abilities

Diplomatic and professional when handling tough situations 

Process-oriented, proactive, high-energy, and reliable

Resourceful, self-driven, and comfortable jumping in to play different roles on a project
We do our best to make sure everyone at Constructive is taken care of with a great mix of salary, benefits and perks, opportunities for professional growth, flexible work hours, and a healthy amount of time off. We expect this position to have a base salary of between $75K – $85K depending on experience levels.
What We Offer
Constructive is built on a strong, values-driven culture. While our expectations and standards are very high, we also prize work-life balance. Our compensation is a combination of competitive salary and a robust list of benefits and perks. Here are the additional primary benefits that come along with base salary: 
Company-Sponsored Health, Dental & Vision Insurance

401K plan with 4% company match

Company profit sharing plan

Discretionary performance-based bonuses

2 weeks paid vacation (+1 additional day per year)

Paid vacation from Christmas Eve through New Years

1/2-day Summer Fridays (Approx 16)

1 week paid personal/sick days

Annual professional development stipend

New client bonus (2.5% of largest contract in year 1 for any non-inbound client)

The feeling of satisfaction knowing that your work is helping make the world a better place
Our Commitment to Diversity and Inclusion
We believe strongly that diversity is one of our greatest strengths—that the more perspectives we bring to the mix, the better we are as people and the better partner we are for our clients. So, in considering if Constructive is a good fit for you, know that all we care about is that you're qualified to do the job, share most or all of our values, and want to be here. These are the things we'll be evaluating for every applicant—and if you meet those and add to our diversity, all the better.
Interested? Great!
Then please send an email titled "Senior Digital Project Manager" to [email protected] with the following:
A resume

Answers to the following questions:

Briefly describe a website rebuild project that you successfully managed end-to-end. What challenges did you face and what did you do to overcome them?

What do you like to do when you are not working?

A cover letter telling us a bit about you and what excites you about joining our team

Desired salary