January 10, 2022
Constructive Designs 2021 Digital Annual Report for The Legal Aid Society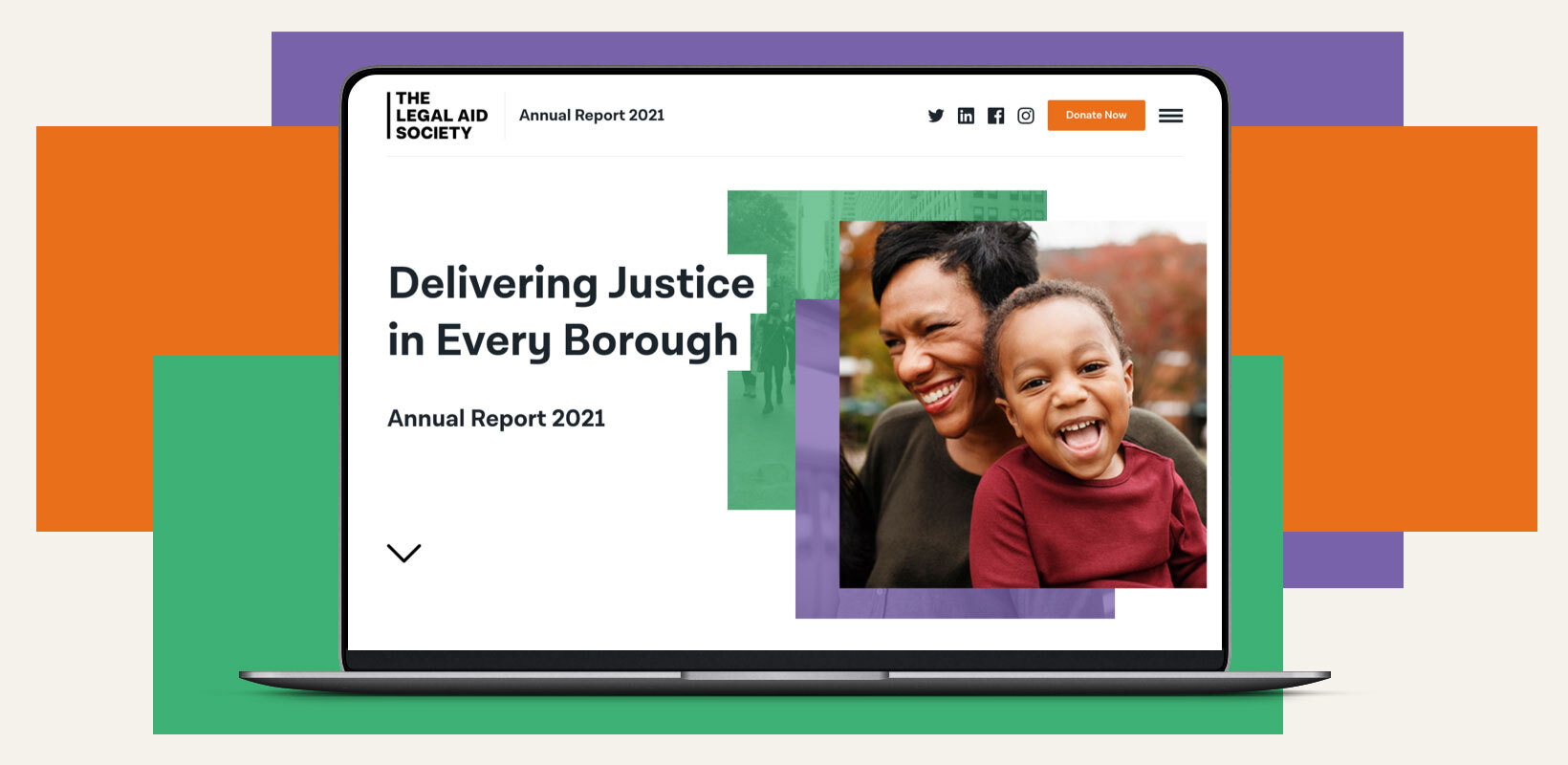 ​​For the past four years, we've partnered with The Legal Aid Society to produce their annual reports, rounding up the nonprofit's largest challenges and victories each year as they continue to fiercely advocate for the rights of all New Yorkers. This year for The Legal Aid Society's 2021 Annual Report, we worked with the leading public interest law nonprofit's to develop a fully digital interactive report experience and print report that highlights their continued work as COVID-19 brings new challenges to the city. 
The nonprofit annual report speaks on The Legal Aid Society's work in the areas of decarceration, housing, remote learning access for students, immigration policies, and marijuana legalization; with further detail on Legal Aid's accomplishments in each of these areas easily navigable within the digital report experience. Explanations of these complex issues are coupled with quotes from The Legal Aid Society's clients and leadership which exhibit the positive impact of their work as well as the tireless commitment of everyone across the organization.
This year, unlike in previous reports, we also created the annual report within The Legal Aid Society's existing website and CMS system, allowing us to utilize existing components of The Legal Aid Society website and brand to create an annual report that is more deeply integrated and connected to the organization. The Legal Aid Society spent 2021 continuing to exhibit its strength as New York City's largest social justice law firm, and we're grateful for our continued partnership in developing their annual reports.
About The Legal Aid Society
For over 145 years, The Legal Aid Society has tirelessly represented New Yorkers across multiple legal practices on the principle that no one should be denied the right to equal justice. The Legal Aid Society has grown to become an integral part of New York City's social justice framework, and continues to work through a combination of government and private support.
Want to learn more about The Legal Aid Society? Visit their website to learn how they're making a difference for all of New York by delivering justice in every borough. You can also learn more about our word developing and growing The Legal Aid Society's brand and website in our case study.