June 1, 2021
We're Hiring a Digital Content Strategist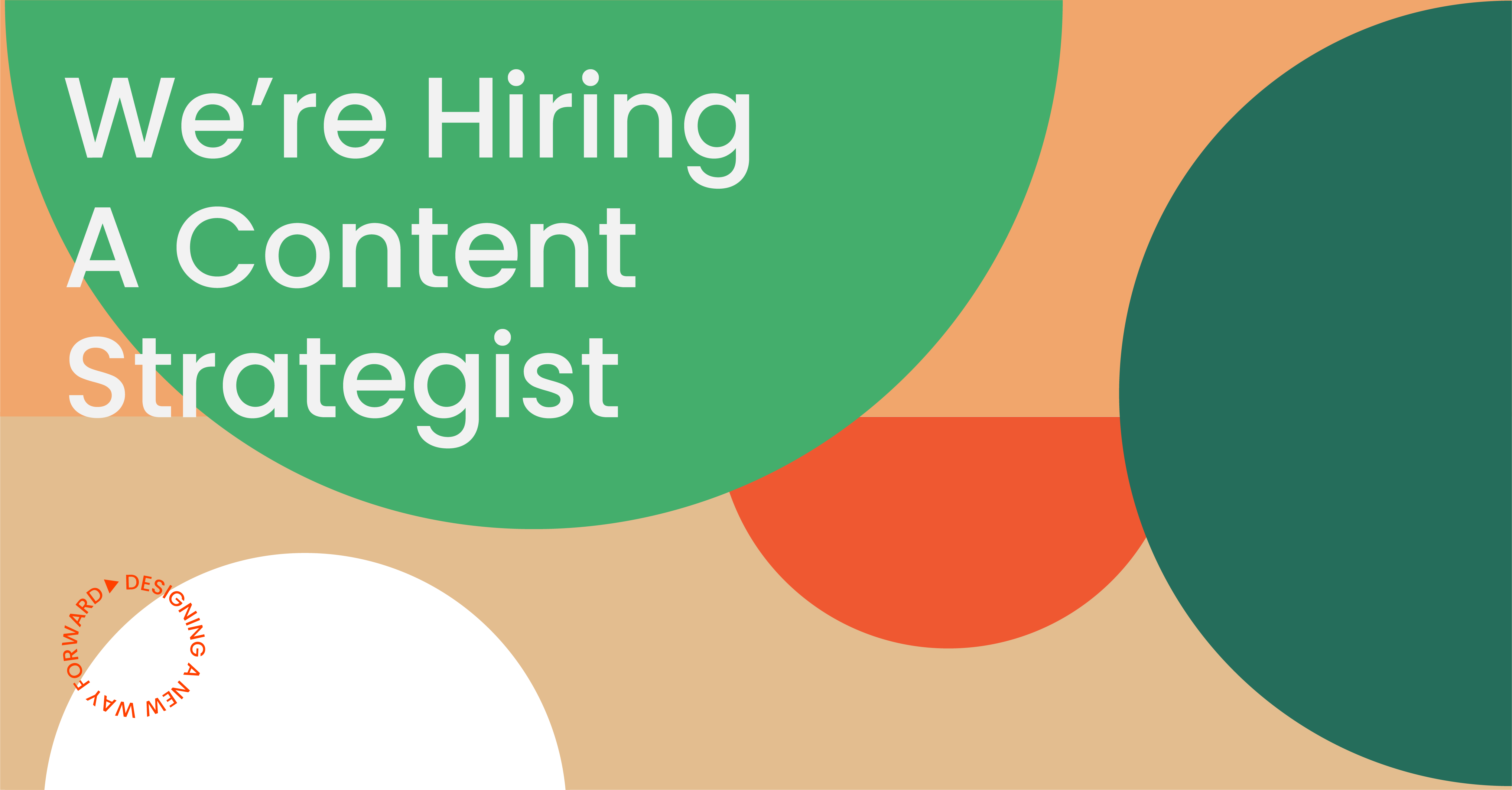 Constructive, a leading social impact design firm with an NYC core and a remote staff that helps advance social, environmental, and economic justice, is looking to hire a Content Strategist to be an integral part of our strategy and digital design teams. While this position can be remote, it must be filled by a person authorized to work in the United States. 
Constructive's work bridges brand strategy and digital strategy, and our strategists work across a wide range of projects. So, while we're looking for a strategist with significant content strategy expertise and experience working on large-scale websites, we ideally need a strategic thinker who brings a social impact brand-building mindset to their work. So, if you're an expert in digital content for large scale websites who wants to collaborate with ambitious people to help make the world a better place, then please, read on!
The Content Strategist's Role
Content Strategists at Constructive are drivers of content engagement—and as a result, brand engagement—for social impact. They are both great at the strategic side of planning content and in crafting word-perfect messaging for social impact brands. They are both strategic content planners and content developers who shape a brand's message through how their content is delivered and experienced online. They are collaborative partners who work across brand strategy and user experience design. They are experts at assessing the quality and structure of existing website content in relation to an organization's strategic goals. They are experts at crafting brand voice and tone. They know how to structure and plan content development for other content creators so that it fits perfectly into the designed experiences in which content will live. 
As a Content Strategist at Constructive, we'll count on you to:
Lead our content strategy and content design work, shaping our approach, process, and methods for researching, planning, and creating strategic content.
Develop digital content strategies that empower people to produce online content that engages, educates, and inspires audiences to act on important social impact issues.
Lead content strategy research,

engaging clients, external stakeholders, and Constructive's team to surface ideas and insights around brand and content goals through surveys, interviews, workshops, and independent research.


Conduct content/UX research to support online engagement, developing testing scenarios and conducting tree tests, card-sorting exercises, and other techniques.
Develop analytics-driven content engagement strategies that drive by working with platforms like Google Analytics and Crazy Egg to inform and back-up recommendations with data.
Conduct content audits and assessments that take stock of client assets and evaluate content for its ability to deliver on brand goals and audience needs.
Lead workshops and presentations

that help teams uncover, understand, and execute effective content strategies

Write branded and UX content, both through hands-on copywriting and by providing strategic content editing that delivers effective branded content.
Contribute to digital marketing content strategies for client social media and newsletter communications.
Contribute to new business development by representing Constructive's content strategy practice in pitches and by creating content for Constructive articles and webinars.
Content Strategist Requirements
A collaborative mindset and deep desire to work in the social impact space

Minimum 5 years experience as a content strategist or digital strategist with deep focus on large-scale websites


Deep expertise in communications strategy, digital strategy

Extensive experience developing content strategy for large websites

Experience developing user/content research plans and conducting testing.

Experience working Google Analytics and/or other digital analytics platforms

Excellent writing skills



Nice-to-Haves That We Really Value
Experience developing brand strategy and writing brand messaging

Knowledge of search engine optimization principles and techniques

Social media marketing experience

Knowledge of issue framing and asset framing strategies

UX writing experience
Our Commitment to Diversity & Inclusion
We believe strongly that diversity is one of our greatest strengths—that the more perspectives we bring to the mix, the better we are as people and the better partner we are for our clients. So, in considering if Constructive is a good fit for you, know that all we care about is that you're qualified to do the job, share most or all of our values, and want to be here. These are the things we'll be evaluating for every applicant—and if you meet those and add to our diversity, all the better.
Compensation, Benefits & Perks
Constructive prizes work-life balance, and our compensation is a combination of a competitive salary and a robust list of benefits and perks. We expect base salary for this role to be $80K-$90K, based on experience and value added skills. Added to this are the additional primary benefits that come along with base salary:
Health Insurance, Dental, and Vision

401K with up to 4% company match

Company Profit Sharing Plan

2 weeks vacation + 1 day each anniversary (max 15 total days)

Week off between Christmas Eve & New Year's

Half-day Summer Fridays (Approx 16)

Flexible work schedules

Annual Professional development budget

Being part of a team that helps make the world a better place
Want to Join Constructive?
Great! Then please send an email titled "Sr. Strategist" to jobs@constructive.co with the following:
Your résumé or CV

A cover letter telling us a bit about yourself, why you'd like to work with Constructive, and answers to the following questions:

What values drive you and your work?

What are the most important skills to being a good content strategist?

What do you like to do when you're not working?
Want to really stand out?
Share examples of content strategy deliverables you've created that will help us understand your strategic thinking and process.

Note: We can sign an NDA if needed to ensure privacy of work shared.