Bonny Colville-Hyde is a User Experience Architect in Bristol, UK, and a regular speaker at design and technology events. We first met at the Future of Web Design conference in London, and I was fascinated by her work with comics as a user experience communications tool. This month, I interviewed her about UX comics, effective communication, and dream projects.

Tell us about what you do, and the path you took to get there.
I'm a UX Architect at Immediate Media, a publishing company. I work with the Sports team and we develop two of the biggest cycling sites in the sector: BikeRadar.com and Cyclingnews.com. I started my career at cxpartners (a UX consultancy) after I finished my degree in Media Practice, and I spent about seven years working for digital agencies and freelancing before I decided I really wanted to be part of a product's development for longer.
I do miss the constant challenges and speed of working in an agency, however right now I am still enjoying being part of a product team and getting to see the sites improve over time.
Where did the idea of UX comics come from? Was it hard to get away from more "traditional" research methods?
It was actually really easy as a client asked for some comics to be amended for them, and I got the job. eBay were using comics as part of a user research project and they needed them 'translated' from American English to British English, which I did and then ran the research. I'd never heard of using comics in research before, but I was blown away by how well participants responded to them. Since then I have used comics in a variety of ways throughout projects.
I went on to make comics for other clients, sometimes without them asking. I'd make them if I felt they they would help the process. I had a lot of success with this because these clients went on to ask for more, and I've had a few change jobs and then ask for comics to be made for their new company.
People respond very well to comics because they are different and they're visual. This makes them powerful communication tools, as they attract people rather than repel them (like dry documentation and reports do). I've found people are keen to engage with comics because they show people, not just words.
Human communication is so much more than words – comics allow us to use body language, facial expressions and a whole host of visual clues to share information and build empathy. Even a single panel comic can communicate a massive amount of subtle data!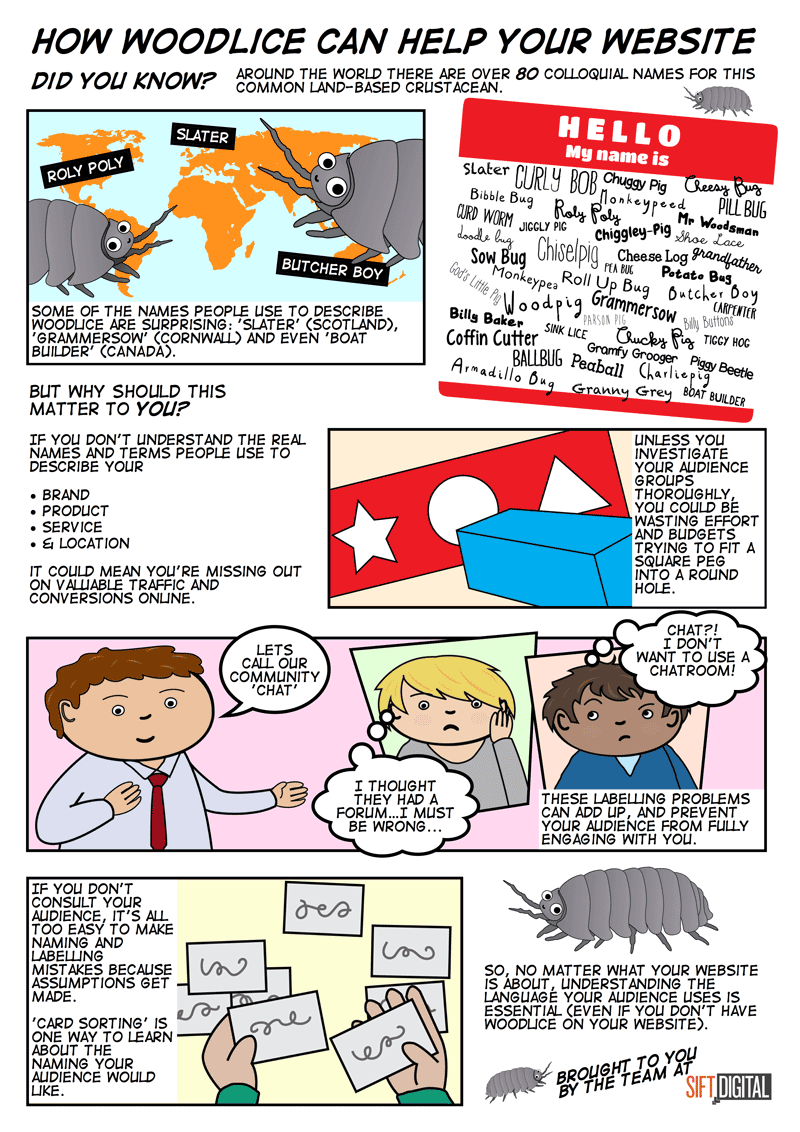 A UX comic created for Sift Digital that explains the value of audience research when labeling content.
You speak regularly at conferences and your talks often mention "death by documentation"- can you tell us what that means?
Well, it refers to a few things really. First of all, I think everyone gets bored quite easily. Our clients and team members are no different. If you want to really engage them you've got to produce work that doesn't make them want to fall asleep. Who can say they enjoy reading long reports over their lunch hours (or worse, in bed)? Who likes sitting through PowerPoint presentations? The way we package up our thinking and ideas makes a difference to how they're consumed.
Secondly, there is a bit of an entitlement culture in UX, which I think is a load of rubbish. We often can think a bit too highly of ourselves and the work we produce and expect others to think the same and be prepared to read our waffle. The quality of the work is in the measurable results it produces, not the paperwork it generates.
It also comes from selling a process rather than an outcome. If we've sold a particular process and a client is paying for it, we feel the need to produce some sort of documentation to justify the price tag for each stage. This is not in the best interest of the client, users, or long term product value.
A UX comic showing Bob, a typical customer, navigating through a checkout process. His internal dialogue and impressions are clearly spelled out, making the user experience clear and humanized.
Ultimately, death by documentation is when we forget what we're really trying to do and instead expend energy on documents that nobody will want to read. Thankfully, a lot of organisations are maturing in their approach to communicating user experience and are open to trying new techniques. Last year I ran a comic workshop for the .GOV UX team in London, who were keen to look at the ways they share their research data more productively with their extended across the UK government.
What sorts of organizations do you think would benefit most from this approach?
Organisations that struggle to share information up and down their chain of command can benefit from using alternative types of documentation most. If the top level managers fail to understand the work that is being done by the lower level 'troops', that can be problematic. For example, I once worked for a client whose Managing Director thought having a talking robot on their site would solve their customer experience problems better than resolving their fundamental information architecture mess. Getting him to empathise with their audience and understand their information needs better made him see that adding an animated robot on the broken site would be like putting a gold tooth in a rat.
It could be argued that out of all organisation types, charities and not-for-profits should be the most user centred, as their remits dictate this. However, I've seen this get lost when it comes to balancing their approach to digital and more traditional offline marketing activities. A lack of digital literacy amongst senior decision makers can really harm the service offering provided to the end users of a charity, and waste limited funds. That lack of digital literacy can be accommodated for, however, as long as there are tools to support decisions involving digital strategies that staff can easily access and use collaboratively.
For instance, I created a set of comics and personas for a children's charity in the UK based on user research work done by a colleague. By bringing the service recipients, their families, teachers and fund raisers to life, senior staff were able to understand the opportunities they had  to build a digital service that could work alongside their traditional offline service, and fit into the context of the user's lives as their needs changed.
Denise tells her story of using a non-profit's website, clearly explaining how it fits into her offline life.
Describe some of the reactions your comics have had when you show them to clients (and users).
Smiles. The most common reaction to looking at a comic is a smile. How many other types of documentation have that effect?
The best results are when a team sticks the comics up on the wall: they attract lots of attention. I've seen how comics can travel virally within companies, with different teams using them within their departments outside of the original scope of work.
What would be your dream project to use UX comics with?
I think it would be very interesting to use comics within healthcare research and service design, especially around the design of care for the elderly, or side effects of prescription medication. I believe the mix of narrative storytelling and imagery could generate increased compassion and empathy as well as improved understanding of the social effects healthcare has alongside scientific results.
End of life care is an area that could be improved enormously for the families of lost loved ones. Death comes with a lot of paperwork. When I lost my father to dementia 18 months ago, I remember my whole family had to hold back on the grieving process until we had managed to complete all of the administration required of us. Improving this experience for people could make a huge difference to the emotional lives of the population.
I'd love to see governments and healthcare providers look at their service design so that trauma and stress associated with forms and paperwork could be reduced.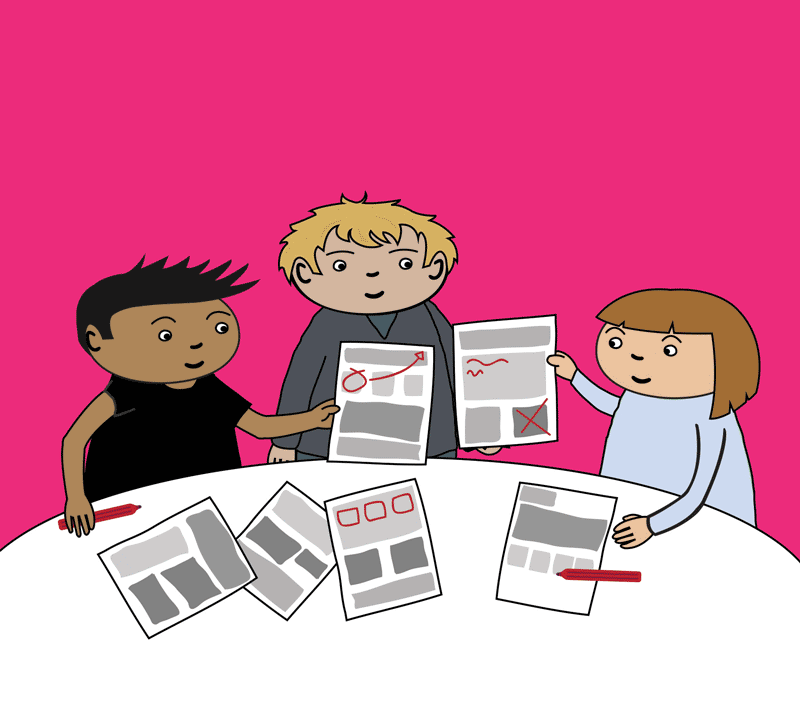 If you were going to give advice to a creative team that wants to use this technique, what would you say?
You don't have to be good at art to be able to make meaningful comics, with a bit of practice drawing the basics you can communicate a lot! Focus on learning to draw facial expressions as these will bring your story to life and help your audience empathise with your characters.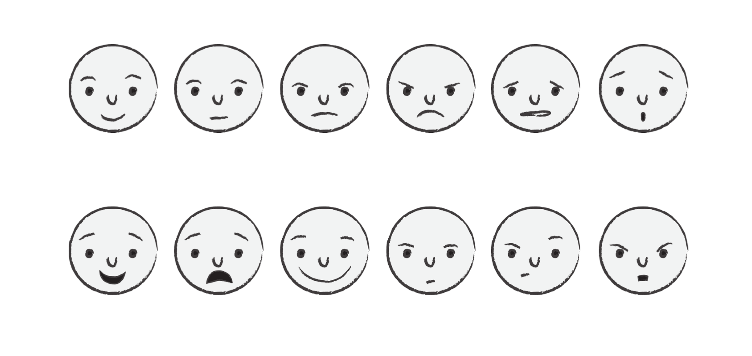 Go ahead and do it, don't wait to sell it to someone. Most clients or team members won't know they want comics until they see them and use them.
Bonny, thanks for taking the time to answer a few questions about your experience and how UX comics can be used effectively. This have been really informative. If people want to learn more, are there any books or sites you recommend checking out?
If you would like to learn more about comics, Understanding Comics by Scott McCloud is perfect. If you want to try your hand at making comics, I cannot recommend Cartooning: Philosophy and Practice by Ivan Brunetti enough: it's a tiny book, but it's packed full of witty and insightful tips. Scott McCloud's Making Comics is also a great primer.
If you want to know more about user experience comics though, See What I Mean by Kevin Cheng is required reading! I wish I'd had his book when I started making comics.
You can find Bonny online at: http://www.almostexact.com/