The Sephardic Foundation on Aging
Philanthropy that Fosters Innovation & Collaboration on Aging
The Sephardic Foundation on Aging fosters innovation and collaboration in the field of aging so that older people and their communities have the support and resources they need to flourish. Founded in 1951 as a community-centered home for the elderly in New York, the human services nonprofit developed a new mission and strategic plan focused on systemic impact. After 5 years, the Jewish philanthropy turned to Constructive to focus its brand strategy, tell the organization's story, and design new branding and a website to strengthen relationship between the nonprofit's past and their future in philanthropy.
Brand Strategy
Creating a New Brand for an Historic Organization
Kicking off the project with SFA's team, their leadership emphasized that one of their top priorities was to bridge the organization's history—represented significantly by their Board, most of whom had strong connections to the foundations roots as a nonprofit home for the aged. To understand the complete picture, we led a brand strategy process combining stakeholder surveys, interviews with Board members and partners, strategy workshops, and sector research. Our team then developed a brand strategy for the philanthropy that tells SFA's story—articulating their mission, vision, values, audiences, and impact strategy. Translated into a brand messaging platform, the new brand for the philanthropy is one of a nonprofit that is optimistic and nurturing, an innovation expert, and grounded in tradition—but not traditional.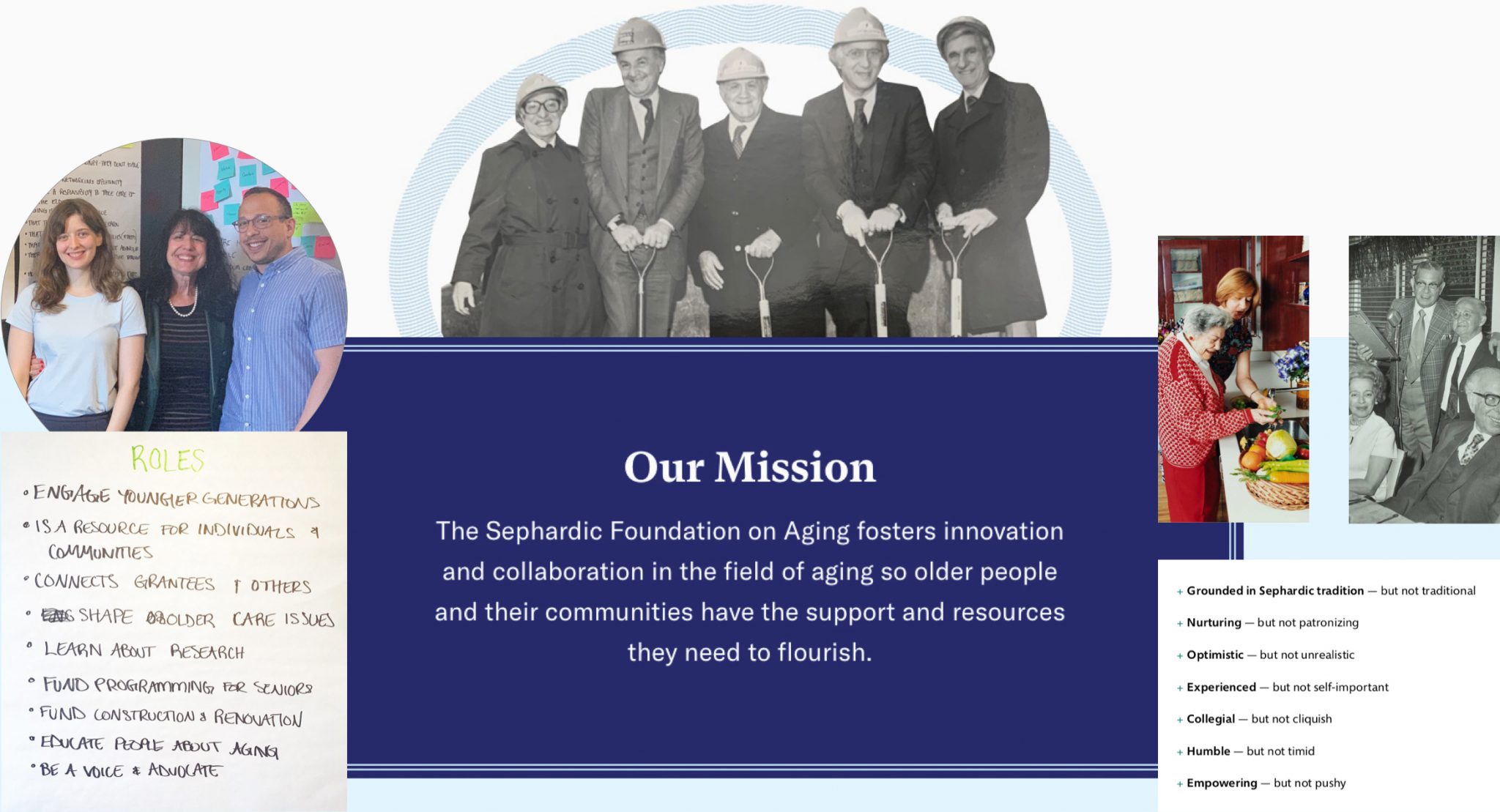 Framing Research
Creating Inclusive & Equitable Communications About Aging
When it was a nursing home, using words like "aged," "elderly," and "seniors" was central to how The Sephardic Home for the Aged brand spoke about itself and the community it served. As part of our strategy workshops, we recommended that using such language could both undermine SFA's progressive values and alienate partners. To get to the root of the matter, we conducted issue framing research to understand the entrenched narratives that exist about aging and old people. With this insight, we re-framed the nonprofit's messaging to be more inclusive, focusing on the dignity of thriving, aging populations—and also applied what we learned as a result to guide visual design and ensure that the imagery we chose for SFA's branding and website would reflect the same values.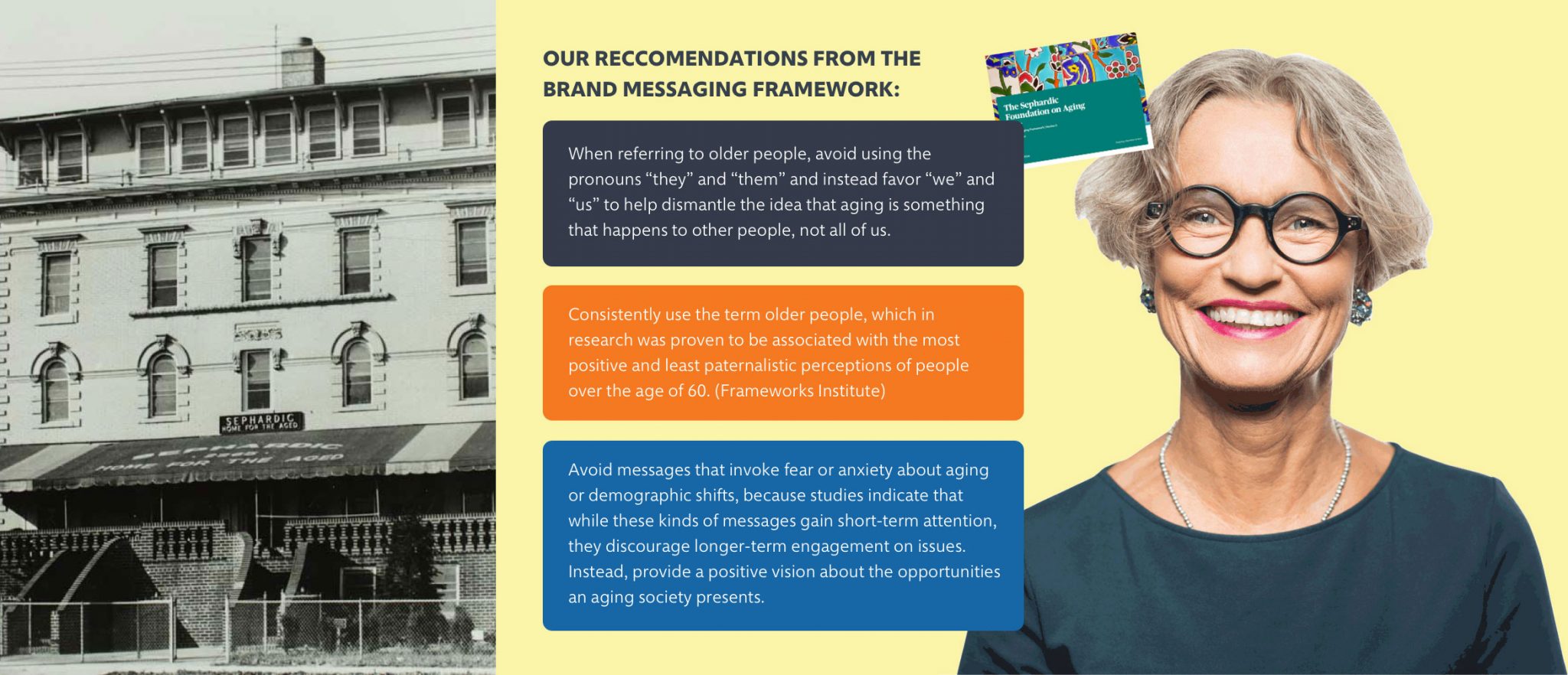 IA & Content Strategy
A Modern Logo Rooted in a Storied Sephardic Symbol
As part of our brand research, Constructive's design and strategy leads visited The Jewish Archive Center of New York. An historic, cultural symbol that we repeatedly came across was the Sephardic handshake. A prevalent seal for Sephardic organizations in the United States, the handshake represents a belief in our a collective humanity and a commitment to compassion. Inspired by a symbol that we saw as an ideal fit for SFA's new visual identity, we fused it with another well-known symbol for care: a heart—designing a new logo that would anchor the Foundation's new branding. The results visually tell SFA's story, uniting history and tradition with a commitment to care and compassion.
SFA's new branding is rooted in Sephardic tradition while projecting a bright, inviting, and forward facing image that embodies the nonprofit's mission of compassionate innovation.
Digital Strategy
A Website to Support New Philanthropic Priorities
Created 5 years earlier when the philanthropy was established, the structure and content of SFA's existing website no longer supported their strategic priorities. Issue areas and program details were inaccurate, and as a result, the website told a story that wasn't aligned with who the nonprofit was now or where they were headed. We developed a digital strategy to architect a new home for SFA—starting with collaborative protoyping workshops that accelerated the web design process. The resulting content strategy and information architecture create an accessible, connected experience that makes it easy for SFA's audiences to quickly learn about the philanthropy's mission, strategic priorities, and impact.

Website Design
Web Design that Embodies Vitality & Values
With a website structure and content plan in place, it was time to bring The Sephardic Foundation on Aging's brand to life online. Emphasizing the optimism, vitality, dignity, and care that are cornerstones of SFA's brand identity, we designed a website that combines soft and bright colors from the nonprofit's design system with authentic portraits that frame joyful representations of life at every age—and, as a result, dismantle harmful stereotypes of aging. Metaphorical photos of hands represent SFA's program areas and express the humanity of the foundation's mission while alluding to our historic muse for the brand, the Sephardic handshake.
SFA's new website is the brand's primary canvas, emotionally connecting audiences to the issues and bringing the foundation's mission, vision, and values to life.
Issue Areas
A Platform That Prioritizes Issues & Grantees
Like most philanthropies, programmatic priorities and the work of grantees are front-and-center for SFA's brand. To make this clear, SFA's commitments to both its core issues and its values are clearly communicated through "Our Priorities." Content strategy for the section succinctly expresses why each of the foundation's focus areas matter; then places the spotlight where it belongs—on grantees and the important work that they are doing in partnership with SFA.
Website Design
Nonprofit Storytelling, Both Past & Present
SFA's brand is steeped in tradition and history. To honor this important narrative, the foundation's new website tells the organization's story with a rich, visual history that embodies Sephardic oral tradition. SFA's written story is brought to life with photography sourced from the Jewish Archive Center—connecting their new mission to culture and tradition. To tell new stories about SFA's impact, grantee spotlights share the impact of the fantastic grantees that SFA supports. And, to keep people up-to-date with the latest developments, the nonprofit's website is also a platform that connects audiences to how SFA is responding to new opportunities and challenges.
Our Client's Experience
"Constructive's team is thoughtful, collaborative, and engaged. They really took the time to understood our vision—and their process did a great job bringing it to life. Everyone in our organization, including our Board of Directors loves the work they've done—it tells our story beautifully and makes it easy for grantees to engage with us."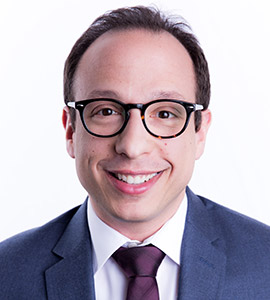 Joshua Hoffman, Executive Director