October 20, 2022
Join Our Team! Technical Project Manager for Social Impact Design Agency (F/T, Remote – USA – ET/CT time zones)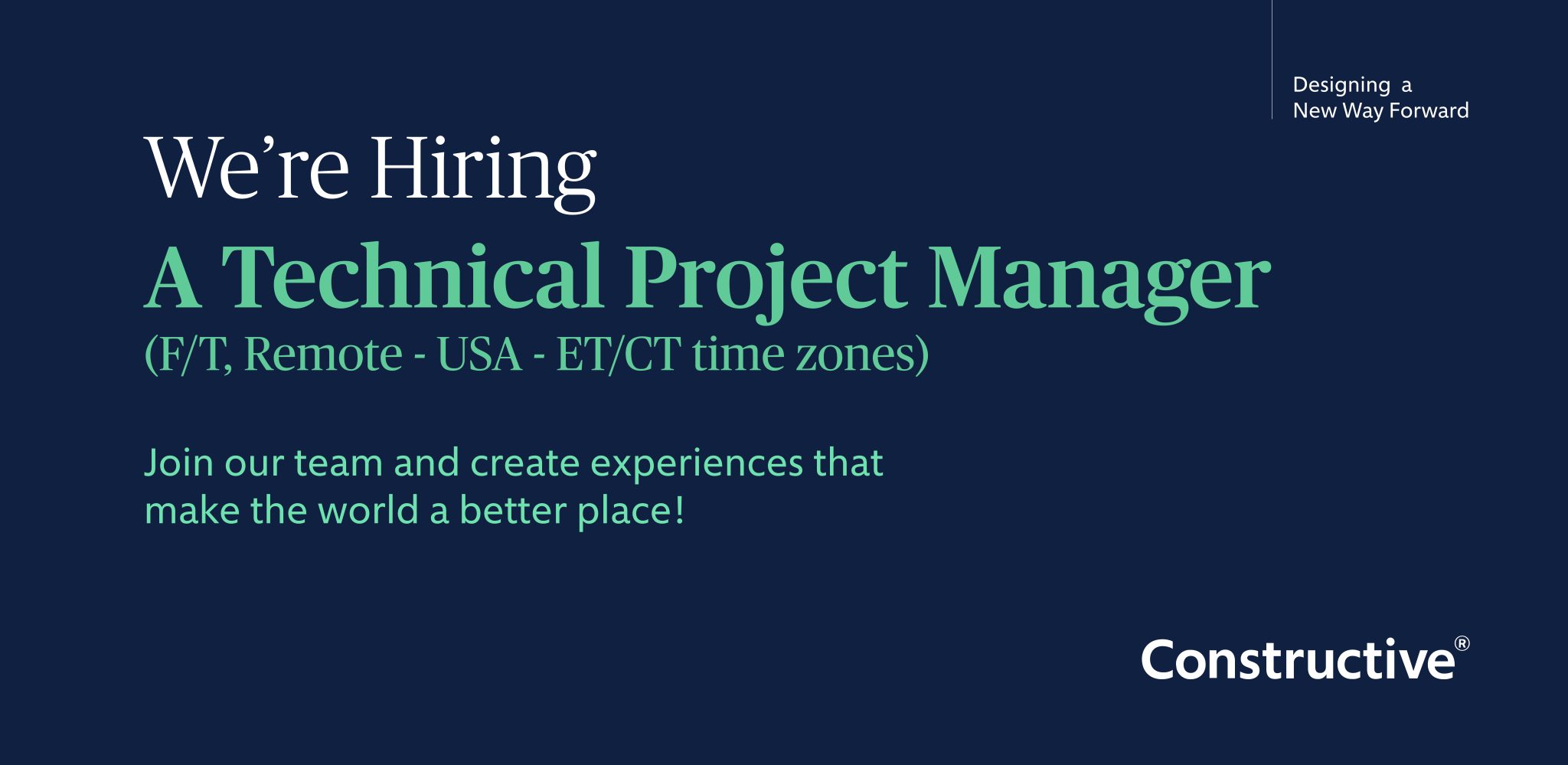 Constructive is a leading social impact strategy and design firm that helps advance social, environmental, and economic justice. We're a close-knit, committed team of experts and advocates who partner with ambitious organizations to make the world a more fair, equitable, and sustainable place. Constructive's culture is built on values that are the core of who we are—deeply held beliefs about the importance of integrity, empathy, accountability, trust, teamwork, and respect that add purpose to our lives and can be seen and felt in everything we do.
We are looking to add a Technical Project Manager to our team who will play an integral role in bringing a high level of cohesion to our cross-disciplinary teams while managing digital projects from end to end.
About the Role
As a technical project manager, you will serve as a fluid connector between our high-functioning design, development, and strategy teams. Your role will ensure that a shared language and understanding exists across our internal teams, as well as with all our client contacts. This will entail playing a leading role in translating technical terms to "layman's terms" (and vice versa), building process documentation, and working closely with Directors to support the most efficient collaboration, efficiency, and delivery across all our digital projects. 
With you in the driver's seat, our quality of work will rise to new levels, when teams are able to seamlessly understand one another and the complex nuances and challenges inherent within their respective disciplines. Your generalist knowledge and comprehension of digital strategy, visual design, and technology will put you in the perfect position to help us manage complex projects on time, under budget, and with exceptional results. 
Your Core Responsibilities
You will be responsible for managing digital projects from start to finish, in collaboration with the Lead Project Manager on the account.
Your responsibilities will include:
Leading and supporting in the scoping and planning of new and existing digital projects.

Triaging, transcribing, and delegating various website requests across all our client accounts.

Being the project owner and defender of scope during various technical-leaning phases of a project, especially the Development, Internal QA & Client UAT phases.

Leading internal and client-facing meetings for the more technical phases of projects, including daily development stand-ups, project check-ins, client reviews, and project retrospectives.

Managing and adjusting to evolving scopes, timelines, and requests throughout the natural course of projects.

Leading and owning the scope assessment and reassessment processes within the more technical phases of projects.

Leading CMS trainings and walkthroughs for our clients, and preparing the site for these trainings via ensuring all pages have been built and all content entered.

Understanding and being able to speak to our Development processes and frameworks at a baseline technical level.

Taking excellent notes, properly documenting action items, and following up with internal and external personnel as project needs dictate.

Leading the charge in building and improving upon process documentation across the agency in order to improve our collective efficiency and shared understanding.

Having a keen eye for recognizing pain points and process improvements, as well as the knowledge to act on them.

Working closely with the Directors to bridge gaps in communication and understanding, as it pertains to how different departments execute and collaborate on digital projects.
Skills & Experience You'll Need
A strong comprehension of the full lifecycle of digital projects, from Planning to Development to QA & Launch.

A strong baseline understanding of the WordPress CMS, including its various features, limitations, and idiosyncrasies.

Being able to recognize the difference between "simple" and "complex" projects, tasks, and tickets, as a means to most efficiently manage and delegate them to the relevant team(s).

Familiarity with the Agile, Kanban boards, and other means of managing technical digital projects.

Excellent written and verbal communication skills.

A high degree of organizational prowess and time management skills.

An uncanny ability to hold others accountable without coming across as abrasive or aggressive.
Bonus Points if…
You have experience in Behavior-Driven software development practices.

You have any accreditations related to Agile or other software development process management methodologies.

You have a baseline technical understanding of code as a means to triage technical tasks and serve as a line of defense for our Development team.

You are comfortable with software engineering terminology, such as backend/frontend, regression testing, CI/CD, etc.

You know what a "design system" is and can speak coherently to its aspects and features, such as component libraries, UI patterns, design tokens, etc.

You are comfortable managing direct client communications, including dealing with managing expectations and de-escalating less than ideal situations.
What We Offer:
We do our best to make sure everyone at Constructive is taken care of with a great mix of salary, benefits and perks, opportunities for professional growth, and a healthy dose of time off. We expect this position to have a base salary between $80k – $100K, with higher compensation commiserate on experience and additional value offered. 
In addition, we offer the following robust benefits and perks. 
Health Insurance, Dental & Vision

Defined Annual Profit Sharing Plan 

401K  With Up to 4% Company Match

Discretionary Performance-based Bonuses

2 Weeks Paid Vacation (+1 day per year up to 5 additional maximum)

Paid Vacation From Christmas Eve through New Year's 

Paid 1/2-day Summer Fridays (Approx 16/year)

1 Week Paid Personal/Sick Days

$2K Annual Professional Development Stipend

New Client Bonuses (3% of First 12 Months of New Work You Proactively Bring In)

Monthly Virtual Happy Hours & Games

A Super-Aligned Team That Loves Showing Up for Each Other

Feeling Great About Your Work Making the World a Better Place
Our Commitment to Diversity & Inclusion
We believe strongly that diversity is one of our greatest strengths—that the more perspectives we bring to the mix, the better we are as people and the better partner we are for our clients. So, in considering if Constructive is a good fit for you, know that all we care about is that you're qualified to do the job, share most or all of our values, and want to be here. These are the things we'll be evaluating for every applicant—and if you meet those and add to our diversity, all the better.
Interested? Great!