July 15, 2022
We're Hiring! Senior Interactive Designer for Social Impact Design Agency (F/T, Remote – US Only)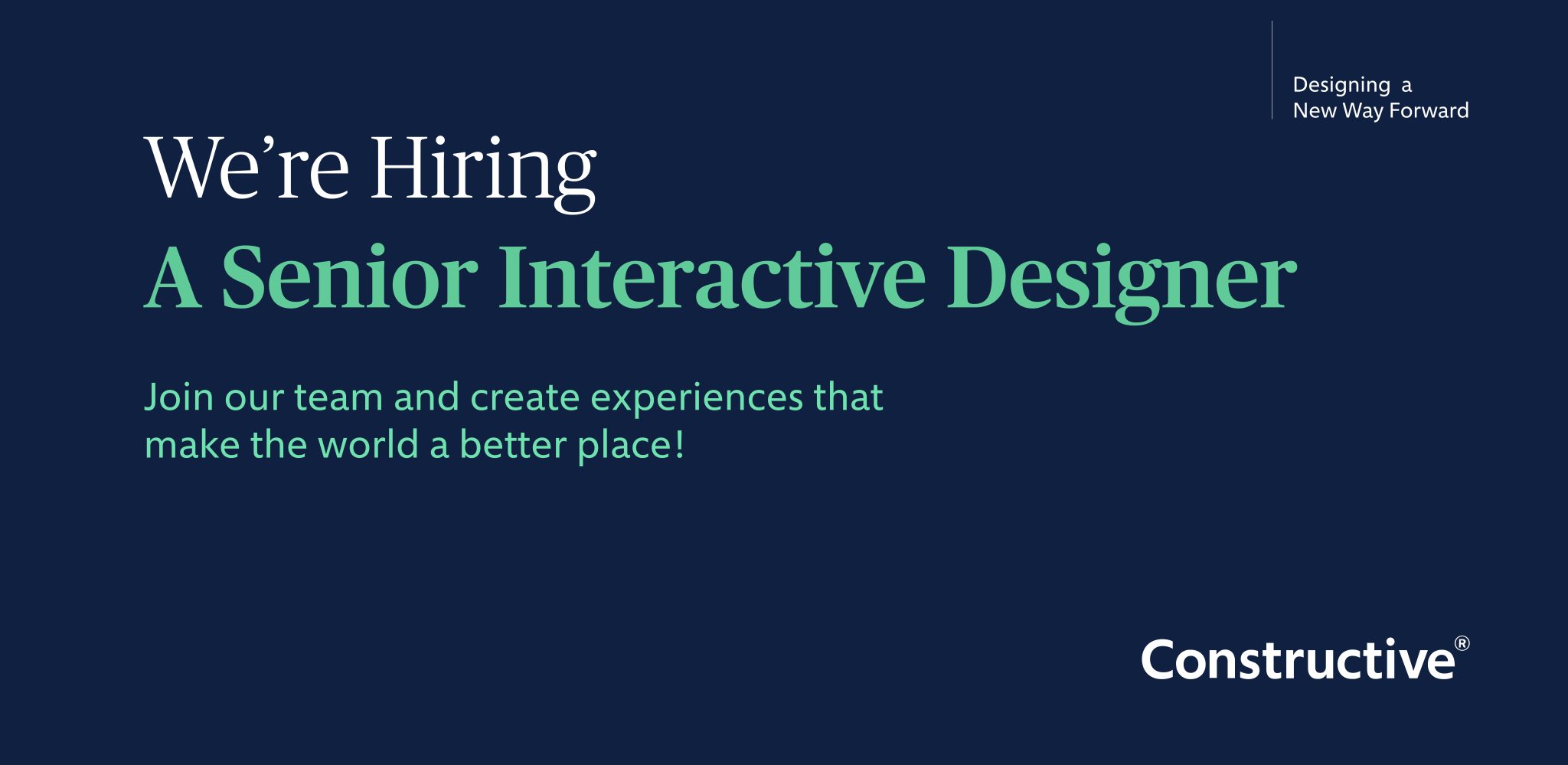 Constructive is looking for a passionate Senior Interactive Designer (must be in North America and authorized to work in US) with outstanding visual design skills and a relentless pursuit of excellence in their work to help us help ambitious nonprofits make the world a better place.

We're a collaborative company that lives our values, which include having high standards and working as a team at all times. We're looking for a Designer who has a creative, problem-solving mind, who loves collaborating, who is always learning, and who takes great pride in their work. If this sounds like you, if you want to make a positive difference on climate change, education, healthcare, and social justice, and you are hungry to be part of a close-knit, high-performing team, then please read on!
About The Senior Interactive Designer Role
As a Senior Interactive Designer at Constructive, you'll take the lead on creating large-scale websites for social impact organizations. Working across our teams—Brand Strategy, Design, Content, and Engineering—you'll bring brands to life, tell visual stories, and drive online engagement that helps our clients have greater reach and impact.

We'll need you to have strong, demonstrated success having done all or most of these things:
Produce design work that sets the standard for excellence, always pushing the boundaries of what's possible.

Have exceptional skill with typography, grid design, color theory, and other design fundamentals—and be detail-oriented about them all. We can't stress this enough—our work has a heavy editorial component that requires balancing complexity.
Excel at designing large, complex, content-rich websites (check out our work to see what we mean).
Bring a systems-based approach to design that scales elegantly across large, complex websites.

Collaborate with Constructive's Design Director to define design strategies.

Facilitate design strategy discussions and create design inspiration boards that help others understand your vision.



Excel at articulating the thinking behind your design to clients, tying your ideas back to strategic brand goals and online goals.

Be organized and process-minded to make executing your work easy for everyone on our team.

Be extremely collaborative and eager to get feedback you can run with.

Oversee production of your design work to make sure every detail of your vision is brought to life.
Additional Skills We Really Value
5+ years experience working in a design firm as an interactive designer
Complete fluency with Creative Suite & Sketch

Knowledge of animation frameworks a big plus


An understanding of how digital products get built.

Experience with UX Design/Information Architecture

Logo and identity design experience
What We Offer
We do our best to make sure everyone at Constructive is taken care of with a great mix of salary, benefits and perks, opportunities for professional growth, and a healthy dose of time off. We expect this position to have a base salary between $80K-$90K based on experience and value-added skills. In addition, we offer the following additional compensation, benefits, and perks.
Defined profit-sharing plan on top of base compensation

401K plan with up to 4% company match

Discretionary performance-based bonuses

Company-Sponsored Health, Dental & Vision Insurance ($500-$1,000 stipend based on marital/child status)
Ongoing employee-driven micro-bonuses (via Bonusly)

3 weeks paid vacation (2 weeks discretionary plus company closed Christmas Eve – New Year's)

+1 additional vacation day on start date anniversary, up to 5 additional

1/2-day Summer Fridays (Approx 16)

5 paid personal/sick days

Flexible work schedules

$2,00 annual professional development stipend

New client bonus (3% of all work signed in first 12 months from any new client introduction you directly make)

The feeling of satisfaction knowing that your work is helping make the world a better place
Our Commitment to Diversity, Equity & Inclusion
We believe strongly that diversity is one of our greatest strengths—that the more perspectives we bring to the mix, the better we are as people and the better partner we are for our clients. So, in considering if Constructive is a good fit for you, know that all we care about is that you're qualified to do the job, share most or all of our values, and want to be here. These are the things we'll be evaluating for every applicant—and if you meet those and add to our diversity, all the better.
Interested? Great!
Then please send an email titled "Senior Interactive Designer" to [email protected] with:
A resume

A cover letter telling us a bit about why you're excited to join Constructive plus answers to the following questions

What values drive you in your work?

What are the three most important things to being a great interactive designer?

What do you like to do when you're not working?

What's your desired salary?

Link to your portfolio and any other websites you've led design on.