February 10, 2023
Constructive Awarded Anthem Award for Legal Aid Society Branding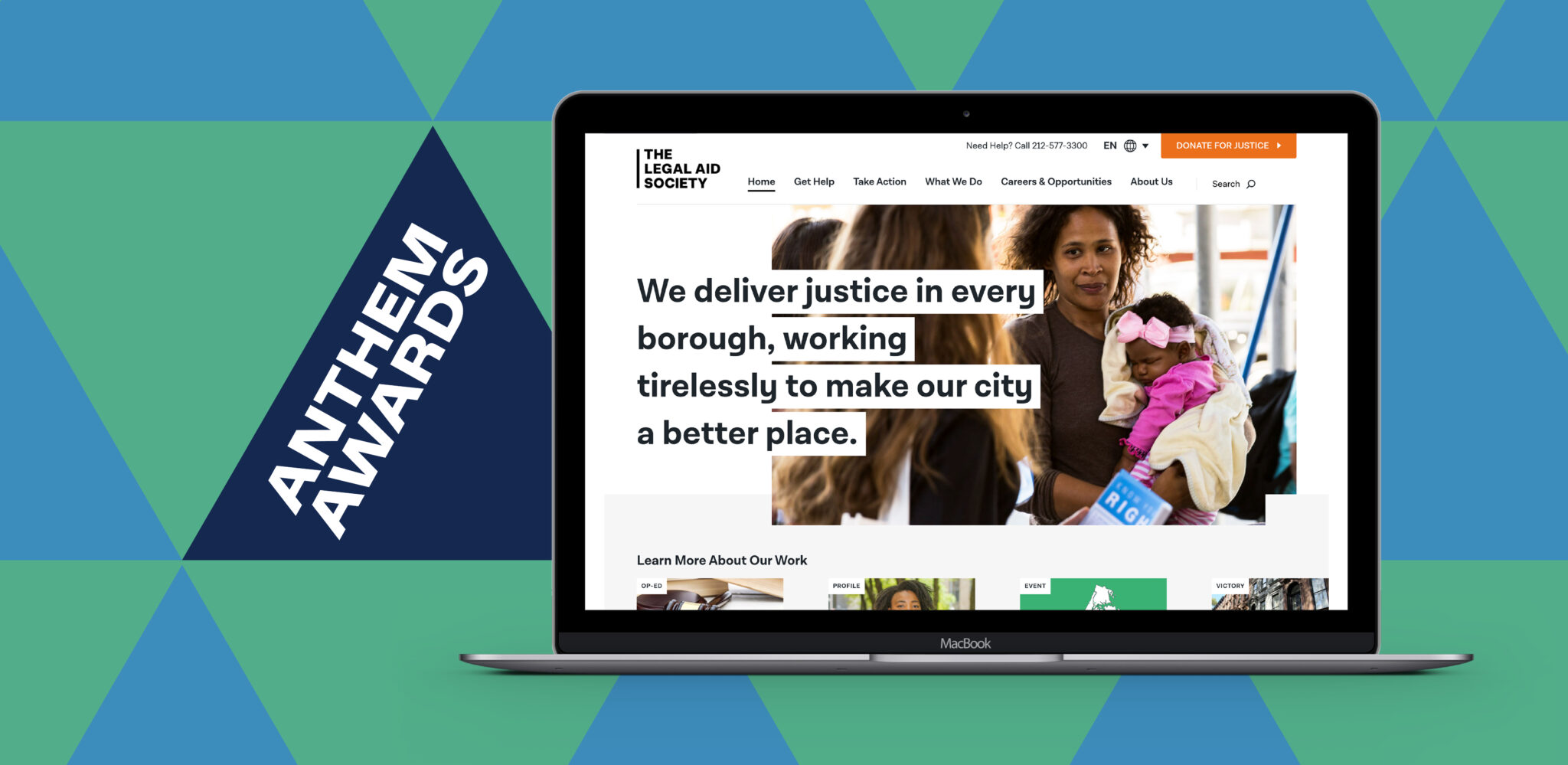 We're excited to announce that our branding work for The Legal Aid Society has been chosen for recognition in the Human and Civil Rights category by the Anthem Awards, an annual awards organization that celebrates purpose and mission driven work. Constructive has been partnering with The Legal Aid Society for over 5 years, helping them to deliver equal justice to all New Yorkers. As one of the largest and the most influential public interest law firms in the nation, The Legal Aid Society is a fierce advocate for the New York public, working across several practice areas to provide legal assistance, represent individuals and communities, and increase access to legal information.
Our partnership with The Legal Aid Society first began with a large rebranding and website redesign project; Legal Aid needed to rethink their brand and create more focused and cohesive messaging to bring together their large organization with offices across all five boroughs. After spending months learning about The Legal Aid Society through internal and external research, we developed new brand strategy, design systems, and a messaging platform that both tells the organization's story and represents all of New York City—while helping the organization to better serve all of New York City. Since the project, we have continued to work with Legal Aid to build out their communications, including developing their digital annual impact reports. The partnership is very special to us, and we're so excited that this work is being recognized by The Anthem Awards.
More About The Anthem Awards
This year, the second annual Anthem Awards is being held to recognize individuals and teams championing work across seven major causes: DE&I, education, art and culture, health, human and civil rights, humanitarian action and services, responsible technology, and sustainability. Created by The Webby Awards after recognizing how many of their submissions were purpose-driven work, The Anthem Awards shine light on the work and teams creating positive impact globally through their creations.
More About The Legal Aid Society
The Legal Aid Society was created more than 145 years ago and today stands as the largest and the most influential social justice law firm in NYC. Committed to equal justice for each and every New Yorker, Legal Aid works across practice areas such as criminal defense, civil law, juvenile rights, and pro bono work to help people navigate our complex legal system. To learn more about The Legal Aid Society you can visit their website here.