September 28, 2020
Interactive Constitution Awarded 2020 FastCo Innovation by Design Award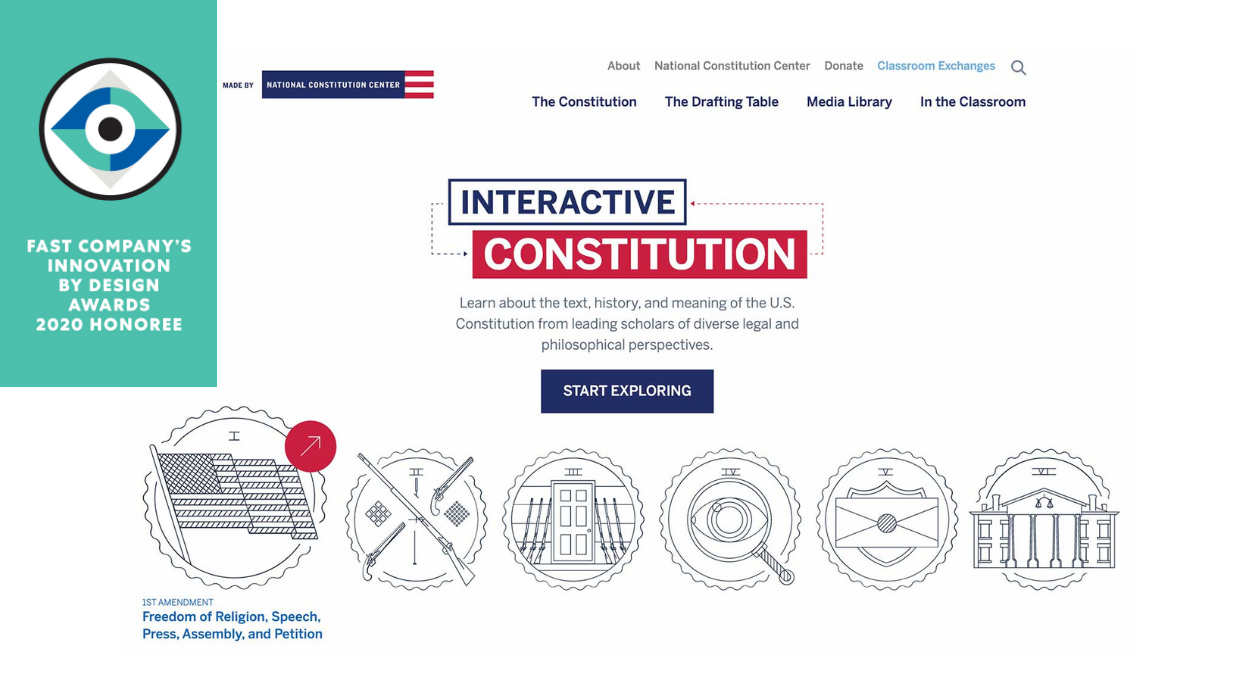 We're so excited to announce that the National Constitution Center's Interactive Constitution was named an honorable mention in FastCompany's 2020 Innovation by Design Awards! Now in its 9th year, the Innovation by Design Awards seek to elevate and honor the designers and businesses solving the problems of today and tomorrow. There are 29 categories, and the judges include renowned designers from a variety of disciplines, business leaders from some of the most innovative companies in the world, and Fast Company's own writers and editors. Entries are judged on the key ingredients of innovation: functionality, originality, beauty, sustainability, user insight, cultural impact, and business impact. The Interactive Constitution was named in the User Experience category.
Innovation can come in all shapes and sizes, so we're proud FastCompany recognized our work alongside projects, products, and services from the likes of Spotify, Google, and Disney. The past four years have made it clear that our country has a way to go in terms of upholding the values of our Constitution. Whether it's protecting the equality of all Americans under the law or ensuring free and fair elections, moving forward will require a shared understanding of the document that built this country. The Interactive Constitution is a digital experience aimed at doing just that—building shared understanding.
Working with the National Constitution Center, we created an experience that makes the U.S. Constitution more accessible, engaging, and insightful to read and learn about online. With the help of analytics, we knew that almost no one was reading through the Constitution's full text online. So we developed innovative user journeys that both present the full text and support non-linear exploration into specific Articles, Amendments, and Sections.
You can read more about our work on with NCC here, and view the Interactive Constitution here. For a full list of FastCompany's 2020 Innovation by Design honorees and winners, head here.