July 10, 2022
Freelance UX Designer for Social Impact Design Agency (North America Only)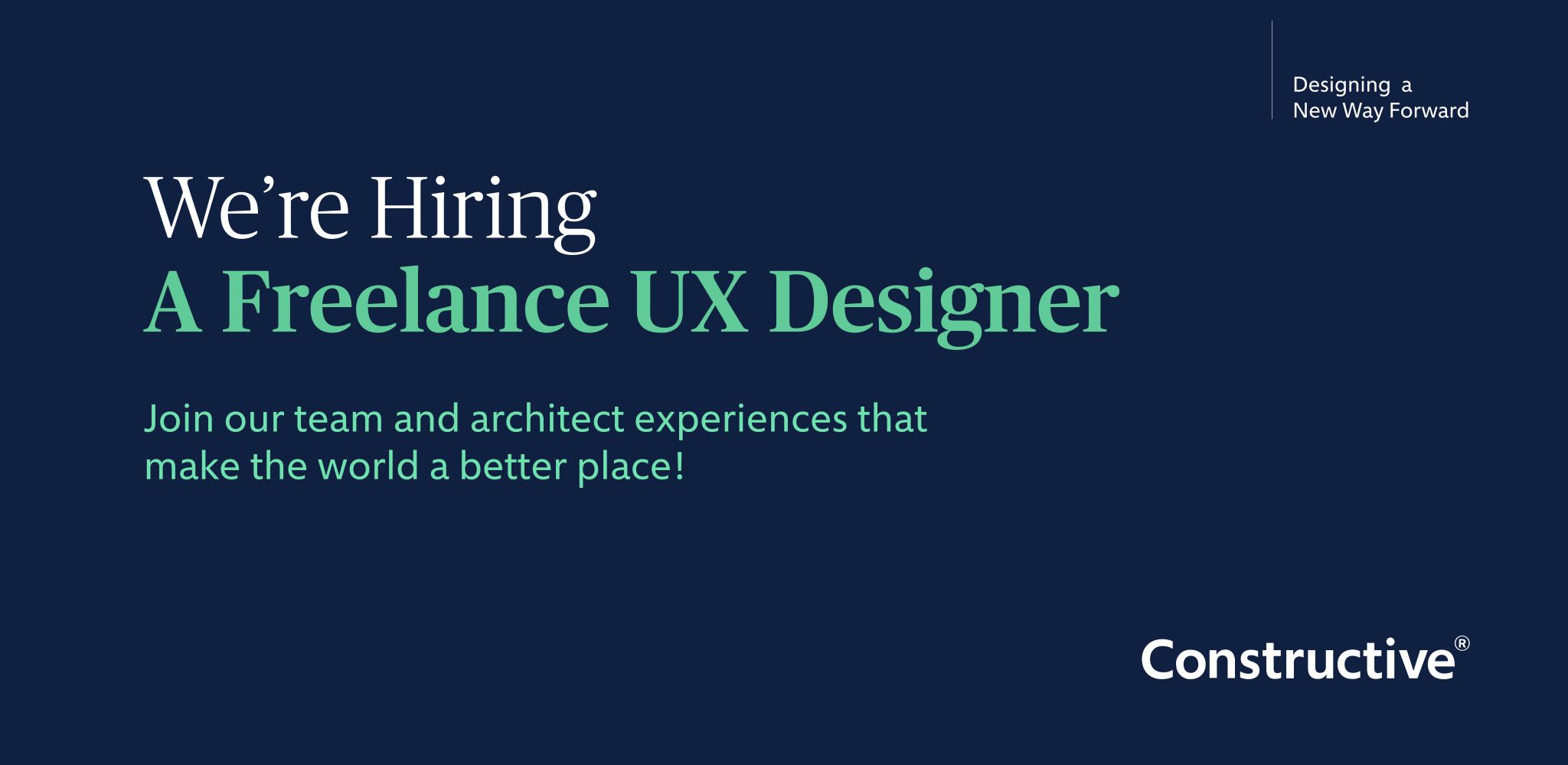 Constructive is looking for senior-level freelance UX Designers to work with our team who have deep experience in designing user experiences (specifically sitemaps and wireframes) for large, content-rich websites that focus on brand narrative and delivering a variety of long-form content. Please note: We are not looking for UX product designers or service designers.
Ideal UX designers for the nonprofits that Constructive partners with are experts at designing digital experiences that emphasize brand experience, storytelling, content design, and audience engagement. And while it's not essential that you've worked extensively in the nonprofit or education sectors, having a passion for doing this sort of work is a big plus.
About The Work

UX Designers with Constructive drive audience and brand engagement for social impact. They are great at listening deeply to client and audience needs, understanding the impact they're trying to create, and developing strategic UX designs to make those impacts possible.
They collaborate with experts on our team across Brand Strategy, Content Strategy, Design, and Development. They are experts at assessing the quality and structure of existing websites in relation to an organization's goals.
Specifically, here are some of the more important things that are important for UX Designers who work with us to be good at
Expertise working on large-scale, content rich websites that present an organizational narrative and drive content engagement.

Guide clients through the process of discovery, research, and UX design to help them make their own vital contributions to the project and creating an enjoyable experience for everyone involved.

Conduct UX research: surveys, interviews, heuristic analysis, content audits, peer analysis, desk research, behavioral analysis, analytics reviews, group discussions,

Conduct UX testing: card sorting, tree testing, prototype testing, and other methods.

Work with the director of Strategy & UX to analyze  research and identify key themes and develop actionable insights to build alignment and set the strategic direction for the project.

Facilitate collaborative digital strategy and UX workshops that help teams uncover, understand, and execute effective digital strategies.

Create high-polish UX deliverables in Sketch or Figma (preferably Sketch)—sitemaps, audience journeys, wireframes, and prototypes.
Some nice-to-haves that would really make a big difference in our work
The ability to lead usability studies and validate their thinking through data.

Experience leading and facilitating UX strategy workshops

Experience working with design systems

Experience working with Google Analytics and/or other digital analytics platforms

Proficiency with Miro, Zeplin, and InDesign

Experience with A/B testing

Experience with UX analytics from programs like CrazyEgg or Hotjar

Strong Understanding of how WordPress and web development works
Excellent writing and presentation skills
Our Commitment to Diversity & Inclusion
We believe strongly that diversity is one of our greatest strengths—that the more perspectives we bring to the mix, the better we are as people and the better partner we are for our clients. So, in considering if Constructive is a good fit for you, know that all we care about is that you're qualified to do the job, share most or all of our values, and want to be here. These are the things we'll be evaluating for every applicant—and if you meet those and add to our diversity, all the better.
Interested? Great!
Then please send an email titled "Freelance UX Designer" to [email protected] with the following:
Your resume

Cover letter 

Link to your portfolio with relevant examples of work

Your Freelance Rates (We're typically in the $65-$100/hr range depending on a person's level of expertise and alignment with our work)