September 22, 2021
Constructive Launches New Child Mind Institute Website Design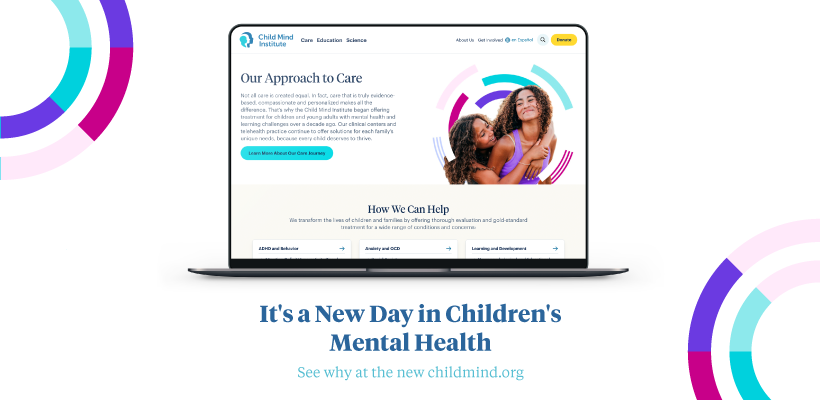 Constructive is thrilled to announce the launch of The Child Mind Institute's website redesign. The Child Mind Institute is the leading independent nonprofit in children's mental health, providing the highest level of evidence-based care and educational resources to millions of families each year, training educators in underserved communities, and developing tomorrow's breakthrough treatments to help families and transform children's lives. In partnering to redesign ChildMind.org, Constructive's team is proud to add to our collaborations with leading healthcare nonprofits and foundations who are advancing health equity and improving the healthcare system. 
When The Child Mind Institute first engaged Constructive, it was clear that they were seeking something much more transformative than a traditional website redesign and a brand refresh. The redesign of The Child Mind Institute's website was an opportunity to deliver a new level of service to millions and, in doing so, make a major advancement in The Child Mind Institute's mission to transform the lives of families and children facing mental health and behavioral challenges. Central to this work was to make The Child Mind Institute's life-transforming support more accessible to more people, particularly lower socio-economic status, Spanish-speaking, and geographically isolated communities.
Together, The Child Mind Institute's team and ours designed a new way forward that places inclusive design and digital accessibility at the forefront of The Child Mind Institute's new website. The new ChildMind.org makes the nonprofit's new brand strategy tangible and accessible by organizing the experience into three core areas of focus: Care, Education, and Science. The digital design system of brand colors, typography, and design elements establishes a new visual identity design system—projecting a leading nonprofit that emphasizes clinical and scientific expertise, yet is also warm, approachable, and impactful. And with thousands of pages of expert mental health resources, guides, and helpful articles being the main focus of the user's journey, the redesigned Child Mind Institute website places content engagement—and content value—at the forefront of the online experience. 
The Child Mind Institute's Director of Digital, Josh Okun, summed up The Child Mind Institute/ Constructive partnership:
"Choosing a partner to help us design the new Child Mind Institute website was a crucial step for our organization. We needed an agency that understands research-focused nonprofit brands like ours and could help us develop a strategy, navigate the process, and deliver a fantastic product with exceptional design. Constructive came through every step of the way, including supporting our large team of stakeholders and navigating significant changes. The results accomplish all the goals that we set at the beginning of the project – a Child Mind Institute website that is more accessible to a wider audience, is easy to navigate, and delivers a great experience."
After more than a year of hard work and a new website available to transform the lives of children and families living with mental health challenges now public, Constructive's Founder and Executive Director, Matthew Schwartz summed our experience up as follows:
"The Child Mind Institute set the bar high for their website redesign and Constructive's team has been proud to partner with them and bring their vision to life. CMI's team wanted to focus their brand strategy by creating experiences that help everyone—from clinical experts to concerned parents—better understand the organization and connect with their important work. The site needed to increase the value that their expertise offers by making their volumes of guides, articles, and other content accessible and engaging. And lastly, our North Star was to make CMI's mission more inclusive to people and communities that, too often, are prevented from getting the mental health support and care their families need. The process has been challenging and rewarding—and we're really excited to see the impact that our work together will have."