April 18, 2022
The Webby Awards Honor Constructive and Child Mind Institute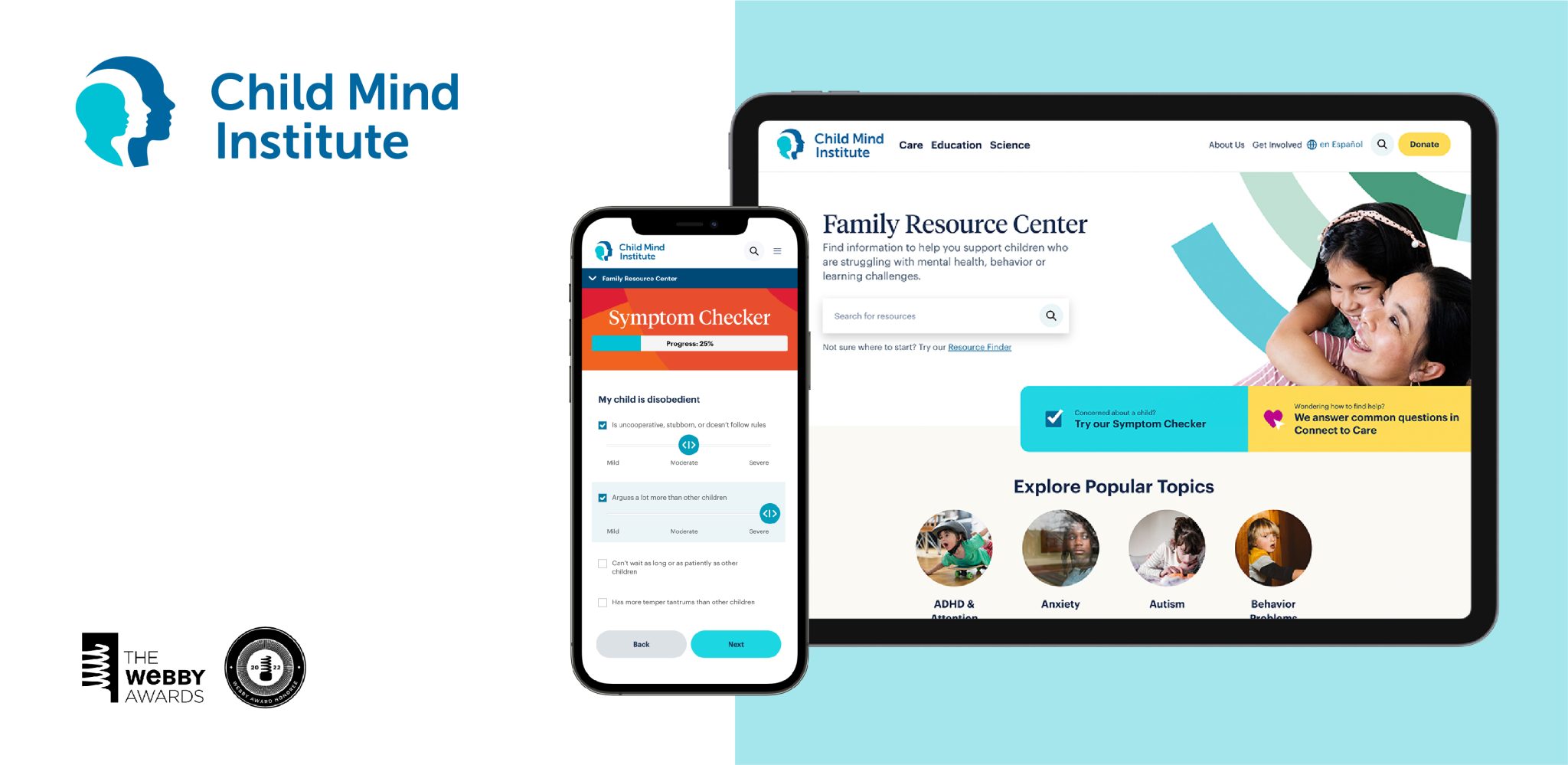 We're excited to announce that Constructive and Child Mind Institute were named honorees for the 2022 Webby Awards in Websites and Mobile Sites! We're thrilled that our collaboration was able to reach the families, researchers, and educators of Child Mind Institute and resonate with The Webby Awards. For almost 30 years, The Webby Awards has recognized excellence on the Internet across mediums, genres, and industries. Each nominee and honoree is judged by the public and industry professionals from companies like Niantic, The New York Times, and Peloton. These judges consider everyone in Websites and Mobile Sites—of which there are 38 categories—using the pillars of user experience: content, structure & navigation, visual design, overall excellence, functionality and interactivity. We were honored in the Charitable Organizations/Nonprofit category.
Social impact organizations directly address the needs of our time through programs, community building, research, and access. The Internet has undoubtedly expanded organizational reach, but the pandemic has highlighted how clear, impactful UX design and digital presentation can directly impact the communities that nonprofits serve. Volunteer and donor engagement—and access to resources and information—hinge on what we all take for granted: an enjoyable website experience. 
As a design agency dedicated to delivering exceptional brand strategy, branding, and web design for nonprofits and the social impact sector, Constructive welcomed the opportunity to partner with The Child Mind Institute to reinvigorate their brand and meaningfully engage with the millions of visitors they draw to their website every year. A global leader in children's mental health, The Child Mind Institute delivers care, resources, trainings, and research toward treatments to families, educators, and industry professionals who work tirelessly to transform the lives of children. Together, we created a user experience that addresses the needs of those groups when it comes to accessing care and information as well as engages wider audiences. In addition, the new website empowers their people to publish more high-value content by organizing everything in a bright, open format that allows for easy access to what truly matters: the items needed to help families and pursue research into the field. 
Everyone deserves access to the services they need. Children represent one of our most vulnerable populations, and we're proud to be able to tangibly aid in their health and development while expanding our work in the healthcare and mental health space. Learn more about our work with Child Mind Institute in our case study. For a full list of The Webby's 2022 nominees and honorees, head on over here.