Let's go back in time to Monday October, 8th—the Monday before ComNet18. Just as Lexie and Senongo were putting their finishing touches on our pre-conference workshop, the plans for our trip seemed as up in the air as ever. Workers at the Westin San Francisco—the conference venue—were on strike along with thousands of other Marriot-owned hotel workers across the country, citing strenuous and dangerous working conditions, low wages, and other concerns. We didn't know where we'd be staying, where the conference would be held, and more importantly, whether we'd be asked to sacrifice our values as an agency to cross picket lines.
The good news: We didn't have to cross any picket lines. The Communications Network team decided to switch venues just a day before things kicked off. Kudos to them for all that last-minute scrambling and what we can only assume were more than a few sleepless nights. You deserve all the applause. 
They bring good things to life. #ComNet18 pic.twitter.com/1mgcoYCOM3

— Kevin Corcoran (@KevMiCor) October 12, 2018
The better news: Just like years past, we learned a lot, met dozens of interesting people, and left inspired and excited to incorporate some of the ideas we learned into our work. So yes, you guessed it! Here comes another conference takeaway blog post.
A Brand's Actions Speak Just as Loud as Words
One of the biggest themes of this year's conference from our perspective was inclusive, equitable communications and how an organization can be an advocate, ally, and facilitator of the change they seek in the world with their messaging and actions. Case in point? ComNet deciding to move the conference so no one had to cross picket lines. It wasn't the easy move, but it was the right move and as a brand committed to improving lives through communications, it was the only move. 
As nonprofit brand strategists, it can be challenging to articulate how a brand is a living representation of your organization's values and how important that brand is to establishing trust between your organization and its audiences. ComNet 18 showcased this idea in action perfectly. Not only did The COmmunications Network totally change venues at the last minute to align with their brand's values; they also invited one of Unite Here Local 2's leaders onstage during the final morning of the conference to talk about what the protest meant to her, her family, and her community. Talk about using your brand as a vehicle to share the stories of others!
Consuelo [didn't get her last name!], a lobby attendant at @Marriott: "we deserve to have a seat at the table when they make these decisions. all my brothers and sisters are on the streets. it's hard, but i know we will win." ✊🏼✊🏼✊🏼 #onejobshouldbeenough #ComNet18 pic.twitter.com/0llmfyMoo7

— Hannah (@hannahsma) October 12, 2018
Storytelling is More than Telling Stories
Speaking of stories, "storytelling" has become a buzzword in the nonprofit world over the last few years. And for good reason—sharing the stories of the communities we work with is a great way to illustrate and build empathy for the issues we're tackling. But storytelling isn't that simple. The stories we tell and the ways in which we tell them can make or break the way they are interpreted by our audiences.  
Our pre-conference workshop, With All Due Respect, touched on this idea. That while stories can be a powerful tool for change, they can also reinforce biases if they aren't told carefully. In her portion of our workshop, Lexie discussed the ways in which our brains fill gaps in stories with pre-programmed, implicit biases. To overcome this tendency, we should tell stories that make systems a leading character, explaining the connections between individual challenges and systemic barriers so the audience doesn't have to rely on their own assumptions to connect the dots.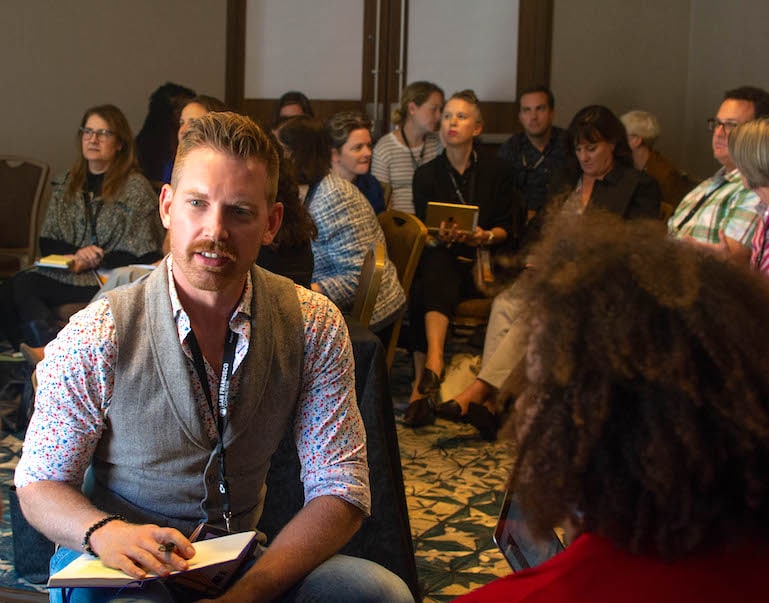 We dove a bit deeper into the complex facets of storytelling on Thursday morning at What We're Up Against, the Second Stage presentation led by Shaun Adamec of Adamec Communications and Nat Kendall-Taylor of the Frameworks Institute. They began their discussion with this question: why is it that our messages are so often misinterpreted by our audiences? In other words, what is it that comes between what "you say" as an organization and what "they think" as your audience? The answer is culture. More specifically, it's a set of pervasive cultural myths that shape our interpretations of various social dynamics and issues. One of these myths is "fatalism," or the idea that the problems we face are too big and deeply rooted to ever change. Framing our messages in a way that balances the problem with potential solutions is a powerful way to ensure our audiences' brains don't default to a fatalistic way of thinking.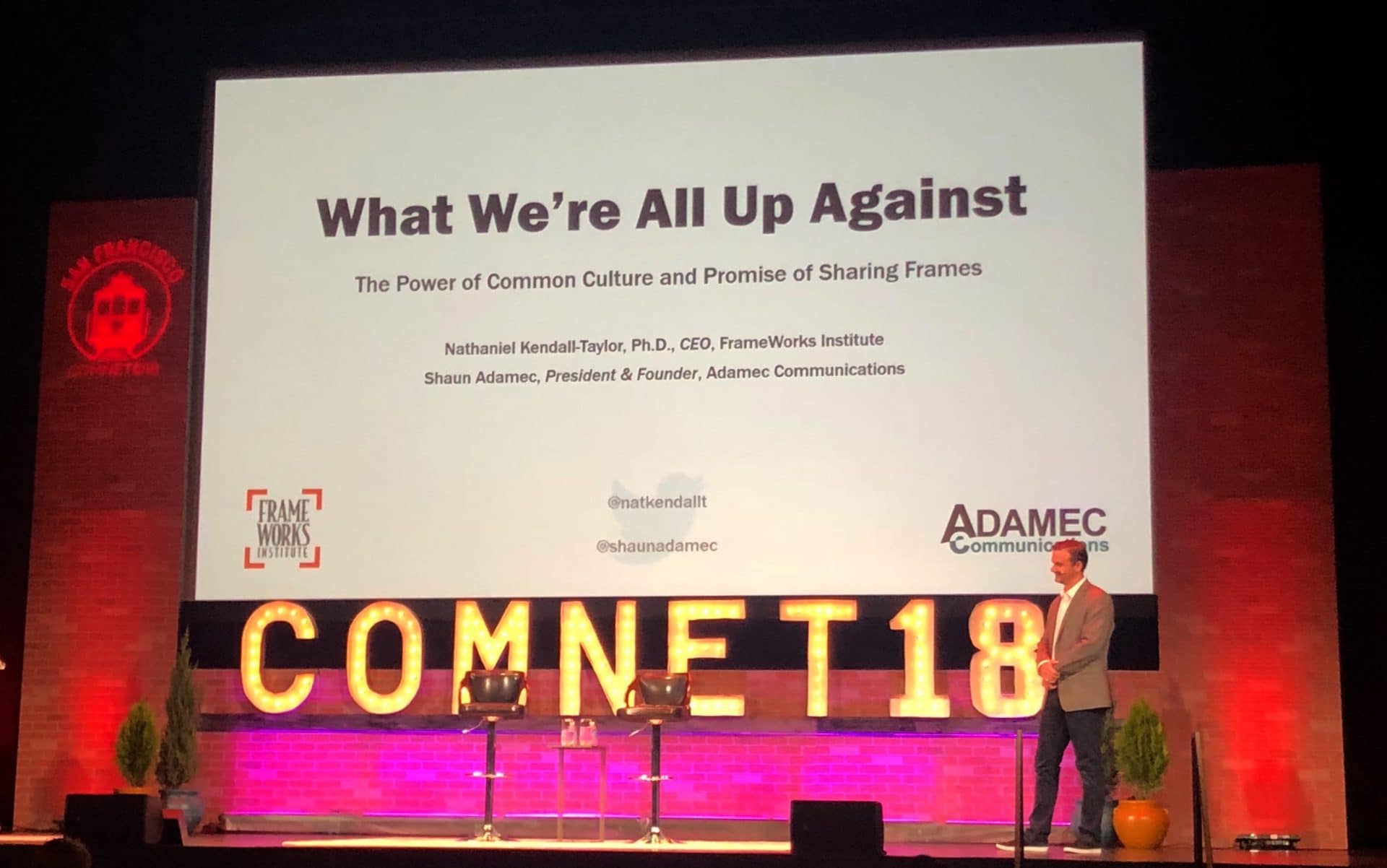 Brand isn't a Bad Word Anymore
Ten years ago, it was uncommon and unpopular to talk about branding in the nonprofit sector. The "b" word, as we like to call it, was reserved for the for-profit world. But over the last few years, brand has become much less of a dirty word—in fact, the topic of brand made quite a strong showing throughout this year's breakout sessions. During one of ComNet's new Dialogue sessions, the Walton Family Foundation discussed their recent, large-scale brand rollout and the ways in which they used the process as a tool to generate enthusiasm across departments. The room was packed full of folks with engaging questions and comments about the benefits of branding.
Of course this is great news for everyone in the agency world, but it's also great news for the nonprofit world. Why? Stronger nonprofit brands lead to nonprofits with more focused missions, more devoted teams, and an increased capacity to create impact. We could talk for pages about this idea alone, but since that's not what you came here for, here's a link in case you want to learn more about that.
See You Next Year?
I could go on about ComNet18 for hours. But for the sake of your time and attention, I'll stop myself here. Actually, one more thing: Lena Waithe and Cecile Richards totally blew our minds with their insights about sharing stories and perspectives that otherwise might go unheard or untold. Can one of you please run for president in 2020? Okay now I'm done. See you next year in Austin!