Despite the growing reliance on newer digital marketing channels, we believe the newsletter is still a no-brainer for social change organizations. Yes, social media allows you to grow your brand's reach, but newsletters distribute important information in a professional manner to your key audience and potential funders. And with the advent of services like MailChimp, email marketing is easier than ever and continually offers more sophisticated tracking methods. So, given newsletters' continued importance, how can you use your website to drive engagement and grow your subscription list? The first step is incorporating approachable, easy-to-use signup forms that entice interest and increase registration numbers.
 All you need is an email address
One of the easiest techniques for growing your newsletter subscription is to limit the amount of required fields a user must fill out. Obviously, the most important information you need is their email. Depending on your goals for data gathering, details like 'name' and 'organization' often aren't as important to gather because they're usually nested within their email. If details like their name are important to gather, consider making this an optional field. Although this may seem counterintuitive, it provides an opportunity for those who want to give all of their information to do so, while also accommodating the user who just wants to sign up quickly with an email address. By accounting for varying users' preferences, you are increasing your opportunity to garner more subscribers!
Use simple language to create transparency
Another thing to consider is your messaging around the signup form. It needs to be obvious that someone will receive an email newsletter when signing up, not promotions, offers, etc. Establishing clear communication of expectations gives the user peace of mind (which could in turn convince them to sign up). Here are some considerations to think about when crafting the language around the signup.
Mandatory:
The word 'Newsletter' or 'Get Email Updates' should be one of the first things a user recognizes. Refrain from using vague jargon like 'Stay up-to-date' because it could have multiple meanings to different types of users.
Clear labels for text fields and buttons 
Optional:
Frequency details (daily emails or every 2-3 months?)
Links to current newsletter samples on an external page
Check boxes if there are multiple newsletter options
There shouldn't be any confusing language prohibiting someone from connecting with your brand. The easier you make the experience, the more likely your potential subscribers will be receptive and sign up.
Don't put all of your eggs in one basket
The most common mistake with growing newsletter subscriptions is including only one signup form in one location on your website. People face numerous distractions and/or are multitasking when surfing the web, so it is never enough to only provide one way to perform an important task (i.e. sign up). All forms should function similarly, but exist in unique spaces across your site. Let's examine the three common forms of signup forms: Pop-ups, Footers, and In-lines.
Pop-up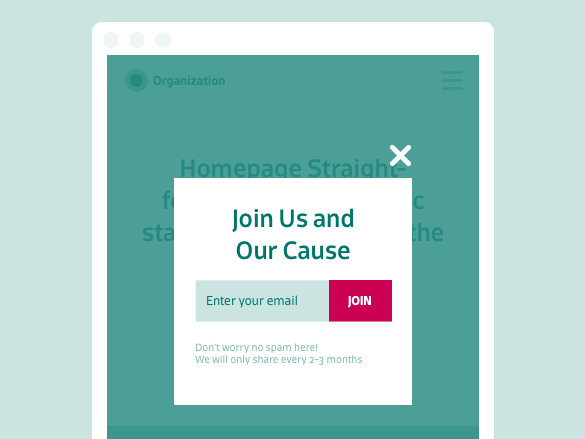 Pop-ups are well-known for being the most effective (and the most annoying) techniques for signups. To avoid pop-up pitfalls, the key is timing. Time your pop-ups to appear 10-15 seconds after your user has engaged with the site. That way, the user has had a chance to look around the site and develop some level of interest. (For a more comprehensive understanding on pop-ups in action, check out 'Web Animation: Delightful or Distracting' by our web developer, Leah Suter). Once you have disrupted a user from their engagement, it's best to make a memorable impression. In other words, make it pretty.
Pop-ups should include:
A clear way to navigate out of the pop-up
High-impact visuals that engage the user to stay on the pop-up
Background overlay that differentiates the pop-up from the normal page
Clear white space that makes signing up feel effortless
Don't be afraid to use pop-ups. They have a bad reputation, but pop-ups have been proven effective because they're the easiest way to remind a user to get more involved with the content they already love.
Footer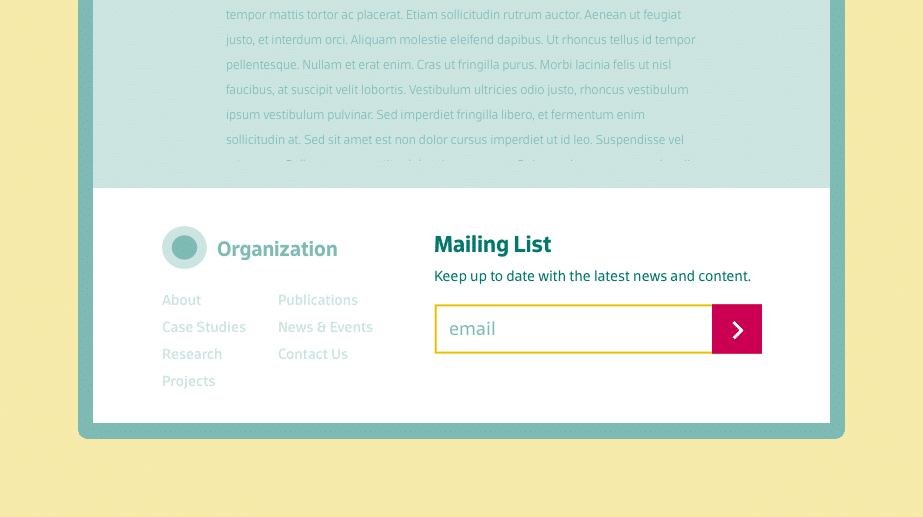 Footers are the default choice for signups. You have two options. The first is a simple form that blends into the footer with small pops of color. (Nothing too flashy — it needs to look good on every page). The other option is to editorialize the footer to your brand's messaging. Think of it as a place to tell people why they should care about what you are up to as an organization. Pair the unit with marketing and impact stats that will resonate with your target demographic.
A Footer Signup should:
Clearly be differentiated from the other content in the footer
Use one bright color for buttons/type to stand out
In-line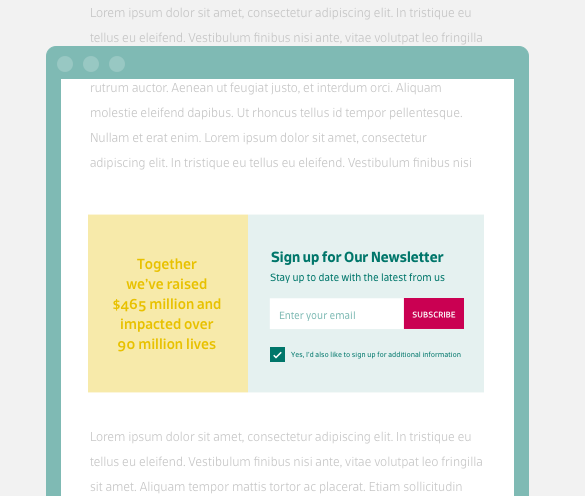 In-line signup forms haven't been explored much in social impact websites but are becoming increasingly commonplace on media outlets like Vox and New York Times. These forms are strategically placed within the body copy of websites and provide visual breaks while also reminding engaged readers they can receive updates. Yes, it's mildly distracting to be interrupted by an in-line block of information while reading, but it's easy for the user to skip over if they're not interested.
An in-line signup should:
Use minimal styling so it's not too distracting from important text on the page
Only include an email field box so the form doesn't take up excessive space and break up the content above and below
Exist on pages that talk about organization's success or knowledge
The key for in-line signups is finding the right content to pair it with. The Constructive newsletter features news and insight posts, so it makes sense to pair signups with insight pages. Organizations like Charity:Water pair their newsletter signup with their impact stories. From an advertising POV, this makes sense because the user might feel more inclined to get involved when reading about the organization's success. The content in the newsletter is quintessential to knowing where to place a strategic in-line signup.
Conclusion
To summarize, the easier you make it for someone to engage, the more likely they are to subscribe. Audiences possess differing preferences when entering personal information: an email address is necessary and all other forms are optional. Likewise, transparent content is key. Instill confidence in your audience with an honest account of what your brand's subscription entails. And as you place subscription signup forms throughout your website, via pop-ups, footers, and in-lines, be thoughtful of timing and surrounding page content. By following these simple UX steps, creating an engaging newsletter registration portal is just as easy as writing the newsletter!